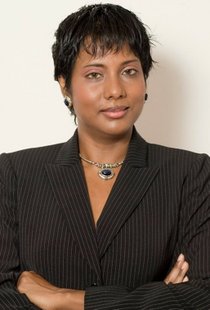 The writer is founder of NewsAmericasNow, CaribPR Wire and Hard Beat Communications.

Recent Stories
A lot has been written since an article in The Washington Post last week revealed that Melania Trump, then Melania Knauss, immigrated to the U.S. on an EB-1 visa. T
By the agency's own count, 37,734 "non-criminal" arrests were made in the 2017 fiscal year, more than twice the number of the previous year.
Tuesday night, after enduring what was an aggravating and painful State of the Union address, I tuned in to Jimmy Kimmel, hoping to lighten my mood with his Stormy Daniels interview.
To many Dreamers, whose lives are in limbo and who might be going through unimaginable stress at the thought of what March 5 will mean for them, the mention by Donald Trump of a path to citizenship for some 1.8 million might seem like a life line.
The words smacked me in the face Friday morning as I looked on Twitter to see how in heavens name the group, Haitians For Trump, could possibly defend the reported comment from the president that their nation is a "shithole."

It's now weeks before DACA runs out on more than 800,000 Dreamers, who are not only students but also teachers, nurses, administrative workers and military officers—all paying taxes and contributing to the economy of these United States.

I'm going to start the New Year by asking you a simple question in the words of famous Caribbean comedian Majah Hye: "Are you dumb?"
If you are an undocumented immigrant living in the U.S., be very careful—especially this holiday season.
It's already another Thanksgiving, which ushers in another season of dreams, wishes and miracles.
Here are 10 things you should know about Tom Homan, the "ICE Man"