Manhattan DA launches 'Data Dashboard'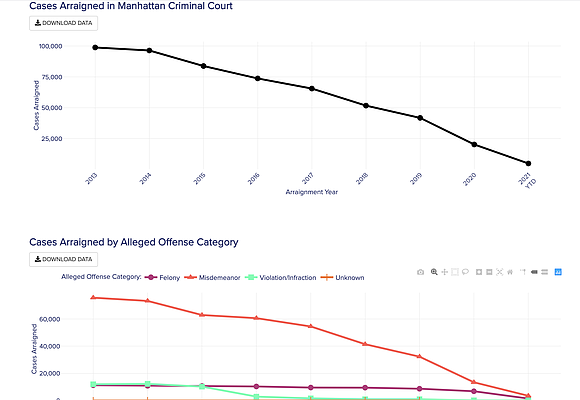 Manhattan District Attorney Cy Vance, Jr., launches a groundbreaking "Data Dashboard" that provides the public with data about the Manhattan D.A.'s Office's prosecutions in order to increase transparency of the criminal legal system.
The new Data Dashboard, available at data.manhattanda.org, is the first in New York State and among the first in the nation. The tool includes more than seven years' worth of data from arrest to sentencing and allows users to narrow results by race, gender, and age, among other filters. The data will be refreshed weekly.
In addition to topic-specific dashboards––including Arrests, Arraignments, Dispositions and Sentences––the site features dashboards that allow users to compare prosecutorial outcomes for people of different races or ethnicities grouped in cohorts based on the year of their arrest. The site also includes explanations of important legal terms and procedures to ensure the Dashboard is as accessible as possible to community members, practitioners, journalists and researchers alike