Chemist awaits patent on product to help fight the coronavirus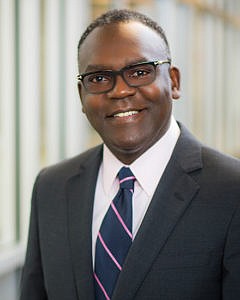 No, it won't cure the coronavirus. But it might help people manage the day-to-day of the pandemic.
Joesph James, the CEO of Pison Stream Solutions and a chemist who currently works for the U.S. Department of Defense, has helped create a new health care solution could hit the market soon. The solution's been independently verified to kill virus and staph...and could also kill the coronavirus on surfaces.
While currently under review by the Environmental Protection Agency, James spoke with the AmNews about the solution.
"This is a product for surfaces," said James. It can be valuable for public areas, public transportation and schools. The health benefits come as a product (of it)."
But James was quick to remind the public that this isn't a cure-all for the global pandemic. He wants to know that, if the product goes to market, it's a compliment to hygiene tactics people use to protect themselves from the coronavirus. It's not the end all be all.
"It's not a vaccine," said James. "It's a super durable chemical solution."
James told the AmNews that he utilized an antimicrobial solution that was already designed to fight bacteria and decided to modify it once the pandemic hit.
"We added to that formulation and then we submitted it to accredited laboratories for testing," James said.
James noted to the AmNews that he couldn't disclose the nature of the formulation because he considers it proprietary information. He did say, however, that one of the ingredients is currently in commercial use,
"We are being very careful," said James.
James is no stranger to innovation and disruption. He worked as a research development chemist for the Lilly Corporation and a senior research chemist for Sherwin Williams and Akzo Nobel. He's also a credited inventor of five U.S. patents and has 11 more patents-pending.
In 2010, James took his talents in chemistry and in high tech IT communications and founded Pison Streams Solutions in 2010.
James considers his company experts in the market of coating solutions. They've produced protective coating for cars, rims, ammunition, counters, faucets, cabinets, upholstery, doors, army tanks, ammunition and other products. All of the coatings is nontoxic, according to James.
Working for the government in 2020 has a certain connotation, but James wants everyone to know that it isn't about politics with him. When asked about President Donald Trump's administration's desire to rush a coronavirus "cure" the people before the presidential election, James said he paid it no mind.
"I consider myself nonpartisan with this and I'm trying to remain in the middle of the road," said James. "I want to get this product to the market soon. We've done the testing and we can provide the transparency of the results. I want to help kids get back to school.
"In regards to the political realm, I try to stay as neutral as best as I can with that," said James.
Recently, James' company announced that its White Type III Topcoat powder coating met the United States military specification approval for chemical agent resistant coating (CARC) powder topcoat. The product coats military vehicles to help safeguard soldiers from any possible air pollutants or hazards stemming from the agency product used during wars.
James' purports himself to be about innovation and disruption and Pison's history has proved him right. James is poised to disrupt again. But he doesn't want the public to misinterpret the nature of this latest invention.
"It's not really a vaccine," said James. "It's a super durable chemical solution."