A one-two punch staggers Trump's quests
Herb Boyd | 11/26/2020, midnight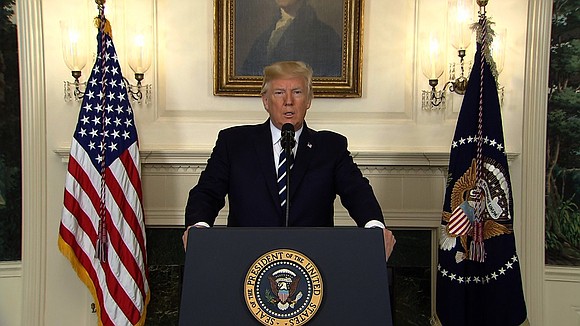 Michigan and General Motors delivered a one-two punch to Trump, hurting him on global warming and his determination to delay the increasingly dim prospects of flipping the Midwestern state.
For months now, Trump has been battling to nullify California's fuel economy rules to curb global warming but it received a decisive setback recently when General Motors stepped away from his quest, signaling it was ready to work with President-elect Biden. During his campaign Biden pledged to reduce climate-warming emissions in the automobile industry.
"I believe that we can own the 21st century car market again by moving into electric vehicles," Biden has said on numerous occasions. And it's an outlook viewed favorably by Mary Barra, GM's chief executive. She wrote that she was in total agreement with Biden in a letter to the leaders of major environmental organizations.
"On behalf of General Motors, I am writing today to provide you with an update on our commitment to an all-electric, zero emission future and our hope that we can come together to make that vision a reality," she wrote, asserting her agreement with the incoming president. "We are inspired by the President-elect's Build Back Better plan which outlines a clear intention to expand vehicle electrification in the United States, create 1 million jobs, install 550,000 charging stations, and position American autoworkers and manufacturers to win the race for electrification."
Trump's refusal to concede has seriously impaired the transition of government, but that process got a considerable bump Nov. 23 when Michigan's Board of State Canvassers voted to certify the state's election results, won by Biden by more than 150,000 votes. Three members of the board voted for certification and one abstained.
Another blow to Trump's hopes occurred when the U.S. Circuit Court Appeals for the 3rd Circuit refused to allow Trump's legal team to resubmit a botched request—one freighted with bad grammar and misspelled words. They will have to wait until Saturday for the outcome of that plea for a do-over.
This is not the first time the Trump team has been less than accurate and complete in its attempt to flip the election results in several states. Even if he was able to flip two or three states that would not close the Electoral College gap with Biden tallying 306 and Trump at 232.
What hangs in the balance is the runoff in Georgia. Dems will have to win both races in order to split the Senate 50-50, leaving it to Vice President-elect Kamala Harris to break all ties.