'Harlem Is…Healing' expands with more heroes
11/19/2020, midnight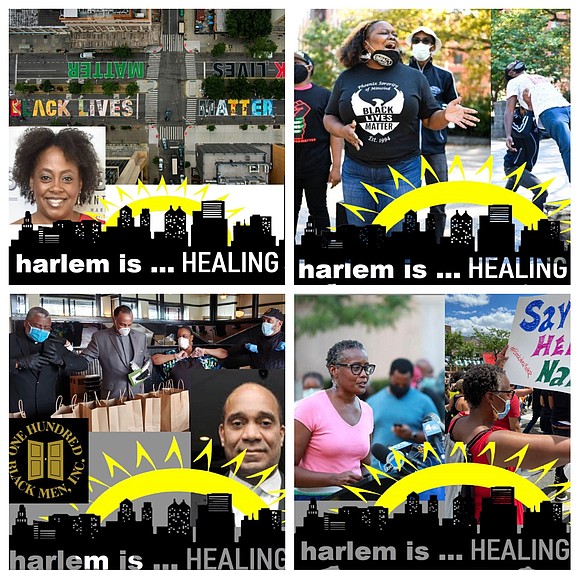 "Harlem is…Healing," an effort by Community Works/New Heritage Theatre Group to celebrate individuals and agencies, is expanding its campaign to celebrate those working to bring healing to a community affected by the pandemic and by issues of policing and calls for social justice with tributes to a new group of honorees.
"The pandemic and social tensions have unearthed inequities that are deep and that are providing a call for community action," said Barbara Horowitz, Community Works president and founder. "In the end, it is about the community and we are honoring those doing that work."
The current group of honorees include Nikoa Evans, executive director of Harlem Park to Park, strategist behind the colorful Black Lives Matter mural on two city blocks of Adam Clayton Jr. Boulevard; Dietrice Bolden and the IMPACT Theatre Repertory for work on a variety of youth issues; Alva Rice, CEO of New York Urban League, which has provided food, aid and business help; Michael Garner and One Hundred Black Men for its services in organizing food, grants and advice; Dr. Lena Green and The HOPE Center, which has been providing free mental health services in response to the effects of disease and social tension; Virginia Johnson and the Dance Theater of Harlem for its inventive use of dance to raise spirits; and M. Scott Johnson, community educator, and his work at the Schomburg Center for Research in Black Culture.

As Evans, executive director of Harlem Park to Park, said of 300 people from the community being involved in creating the BLM mural: "We needed something inspirational to show we were not being victimized by forces out of our control."
Building on a 20-year effort to celebrate local heroes, Community Works/New Heritage Theatre Group have posted more than 30 tributes since March about individuals and institutions from a variety backgrounds who are helping. These tributes can be found on Facebook and Instagram, and are drawing widespread positive response—an indication that people are hungry for hope and appreciate efforts to make things better. The tributes will be featured in a new website and in a planned, but now-delayed permanent exhibition at Harlem Hospital.
Voza Rivers, executive director of New Heritage Theatre Group, said, "What is powerful to see is so many voices coming together."
For more information, please email Barbara Horowitz at bh@communityworksnyc.org or call 917-757-2242. To see the tributes, visit:
https://www.instagram.com/harlemishealing/
https://www.facebook.com/CommunityWorksNYC/
++++++++++++++++++++++++++++++++++++++++++++++++++++++++++++++++++
Earlier Harlem is…Healing campaign honorees include:
The First Graduates of the CUNY Medical School, immediately thrown into the fray; artist Andrea Arroyo, whose work celebrates a community response to disease; JJ Johnson, a chef who has helped serve emergency workers; Dr. Calvin Sun and Dr. Dara Kass, emergency room physicians; the Schomburg Center for Research in Black Culture's outreach to those at home; restaurateur Melba Wilson for her citywide efforts on behalf of restaurant owners to keep serving; the nimbleness of Dr. Steven Corwin, CEO and President of NY Presbyterian Hospital; the community commitment of the Rev. Al Sharpton; We Act, the environmental activists; 100 Tailors of Harlem; African immigrants from the Shabazz Center market, for work on masks and gowns; the work of young people at the Brotherhood/Sister Sol; Harlem Hospital nurse Sadie Treleven; efforts by the Greater Harlem Chamber of Commerce to back programs providing 1,000 meals a day, among other services; Harlem Congregations Community Improvement which is providing wellness visits and financial advice; the SoHarlem Collective; Michelle Bishop's Harlem Needle Arts and Lisa Dubois' X Gallery for sponsoring work with artist; musician Aurora Flores; teen tutor Alexis Loveraz; the Rev. Dr. James Forbes Jr.; Union Settlement, the social services agency in East Harlem; education efforts at the National Black Theater; Clayton Banks of Silicon Harlem for technology help and learning; Naomi Lawrence and the El Barrio Crochet Collective and Carmen Paulino for public crochet projects in East Harlem; artist Robin Holder, whose paintings reflect images and raise questions about response to the pandemic; East Harlem restaurant La Fonda Boricua for working with World Central Kitchen to make meals for Metropolitan Hospital and the needy; photo artist Tau Battice and her portraits of Harlem in the time of a virus; and four women undertakers at International Funeral & Cremation Services in Harlem who have dealt firsthand with the overwhelming real problems of family and death.