City officials warn of possible second COVID-19 wave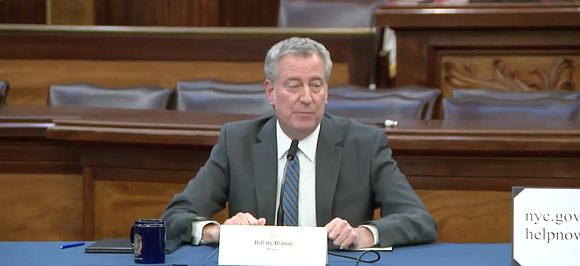 City health officials report that the COVID-19 positivity level in the city has been higher in recent days. The city surpassed its seven-day average of 550 cases with 795 cases.
This week, Mayor Bill de Blasio reported that the seven-day average is 2.31%, which is inching closer to the 5% threshold that would shut the city down. The mayor said there's still time to push back on a second COVID-19 wave in the city.
"If we do the work possible for all of us to do, we can turn this back, but this is a warning sign if ever I've seen one that we have some work to do quickly to make sure the city stays safe and we do not have that second wave," he said.
During a virtual roundtable this week with community and ethnic media, Department of Health and Mental Hygiene First Deputy Commissioner and Chief Equity Officer Torian Easterling said that more people going indoors is one of the culprits to the rise in cases.
"We continue to see most likely household contacts," Easterling said. "People are going more indoors as the weather is getting colder. Certainly, community transmission is up as we've also seen people coming out into the community."
The city released concerning numbers this week from Tottenville, Staten Island, which has the city's highest positivity rate at 7%. Richmond Hills, Queens has a over 4% positivity rate and East New York, Brooklyn is also seeing a 4% positivity rate.
Senior Advisor for Public Health Dr. Jay Verma said many of the cases people are seeing are stemming from people gathering in groups and traveling.
"We still see somewhere around 5% or so of our cases that are associated with congregate settings," he said. "Like for example, nursing home facilities. We see around 10% of our cases are due to travel. It's possible, of course, that that could be an underestimate because people don't always faithfully report it."
With Thanksgiving just weeks away and news of airlines increasing more flights leaving the city, city Health Commissioner Dr. Dave Chokshi repeated his plea for New Yorkers to not travel for the holiday.
"When it comes to our holiday guidance we're emphasizing what the safest options are for New Yorkers around celebrating the holidays," he said. "With respect to travel, that is to not travel. If, for whatever reason, it is it is absolutely necessary to travel during this period, then the safer route is to make sure that you follow the New York State quarantine requirements and do that diligently."
On the state level, Gov. Andrew Cuomo says New York has the third-lowest positivity rate in the nation behind Maine and Vermont. However, the state continues to see an increase in both new positive cases and hospital admissions.
"While we may be tired of COVID, it is not tired of us," Cuomo said. "It's clear that COVID fatigue and a lack of compliance leads to viral spread, so it's more important than ever that as we prepare for winter, each of us stays smart and New York Tough by taking simple everyday actions like washing hands, wearing masks and socially distancing. Likewise, local governments need to be vigilant and actively enforce public health law throughout the state."
Meanwhile, pharmaceutical company Pfizer announced this week that its COVID-19 vaccine is 90% effective. The company plans to apply for emergency-use approval from the Food and Drug Administration.
The vaccine would be distributed in five phases, with healthcare workers receiving it first and healthy adults and children receiving it in the last phase. Health officials predict if all goes well the vaccine could begin distribution in December with everyone receiving it by April 2021.
"We are reaching this critical milestone in our vaccine development program at a time when the world needs it most with infection rates setting new records, hospitals nearing over-capacity and economies struggling to reopen," said Dr. Albert Bourla, Pfizer chairman and CEO. "With today's news, we are a significant step closer to providing people around the world with a much-needed breakthrough to help bring an end to this global health crisis."