Pre-COVID Walt Disney World welcomed folks to newest attraction––"Mickey Mouse Railway"
OLAYEMI ODESANYA | 3/26/2020, midnight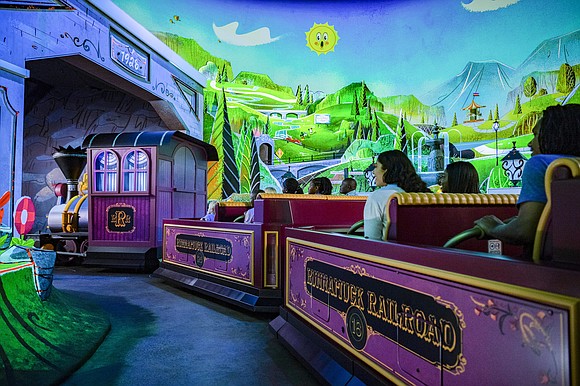 Earlier this month, Walt Disney World opened its newest attraction "Mickey Mouse Railway Runaway" at Disney's Hollywood Studios at Walt Disney World Resort in Florida. This marks the first attraction starring Mickey Mouse and his leading lady, Minnie. The Mickey Mouse Railway attraction is replacing the Chinese Theater which was located at the Hollywood Studios. Since the late 1980s, the Chinese Theatre had been an essential piece to Hollywood Studios, but, it closed a few years back to open this new attraction.
"This is such a great addition to our theme parks! We are excited and cannot wait for families to have the opportunity to ride the new attraction!" said Jon Headley, vice president of The Walt Disney Company. "Not only is this attraction dedicated to Mickey, the ride includes icons; Minnie, Pluto and Goofy. We wanted to make sure this ride was special so why not include some of Mickey's friends!"
When guests first enter the theater, they are greeted by a bright neon sign that reads "Mickey & Minnie's Runaway Railway," where the short film "Perfect Picnic" will be playing. The film features guests like Pluto, Goofy, Mickey and Minnie singing "Nothing Can Stop Us Now," (written by Christopher and Elyse Willis), as they plan to have romantic picnic at Runamuck Park. Without giving up too much information, their picnic is interrupted and causes the screen to explode with a fog. The guests now become passengers to broad Goofy locomotive.
For the first couple of seconds, the ride was going according to plan, but because of another mishap it causes the train to derail. The train cars are split between one another, and there's a 3D tour of the Runamuck park. Passengers will experience a lot on their tour including Daisy Duck giving a dance class, a dive over a waterfall and an exploding volcano.
Not only is there a new ride, there is also a new merchandise collection! Some of the new merchandise includes railroad inspired toys, magic bands including The Mickey & Minnie Runaway Railway logo and of course apparel!
Due to the coronavirus imposed quarantine impacting the globe, the world famous theme park is currently closed by default. It was scheduled to re-open on April 1, but there is no word yet if they are sticking to that date.