De Blasio releases inmates to curb COVID-19 spread, but activists want more
STEPHON JOHNSON | 3/26/2020, midnight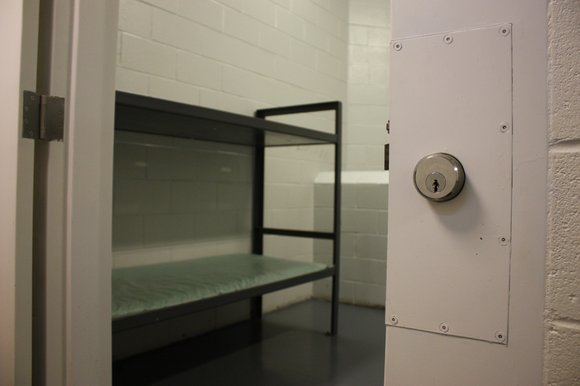 New York City Mayor Bill de Blasio wants to lessen the burden on local jails, which are potential hotbeds for COVID-19. But activists think it's not enough.
As of Tuesday, 38 inmates tested positive for the coronavirus in New York City jails. In response, de Blasio authorized the release of 40 inmates on Friday, March 20 and 23 inmates on Sunday, March 22 to help lessen the burden on city jails and manage the spread of the coronavirus.
"There's been a lot of concern about our jail system," said de Blasio to reporters on Sunday. "I'm going to be giving you constant updates. This is an area of tremendous concern, obviously. Talked about an initial group of inmates who were being reviewed for release. This will be an ongoing situation and a rapid one. I have been working closely with the police commissioner and other officials and obviously our correction leadership to determine the proper approach that is humane and responsive to this crisis…"
De Blasio said that the other inmates released would be those who have limited time remaining on Rikers Island.
"Those individuals are over 50 years old and low risk to re-offend," said the mayor. "Some others we're awaiting a response from the state before they can be released. We are now starting immediate work on a group of 200 additional inmates who are being reviewed for release."
In response to de Blasio's plans to release 200 more inmates to manage COVID-19's spread in city jails, VOCAL-NY Community Leaders Eileen Maher and Jovada Senhouse said the mayor is wasting an opportunity.
"What Mayor de Blasio is doing is not enough. He should be ensuring the release of the greatest number of people, as soon as possible. People who are exhibiting any symptoms should be released directly into the care of a hospital and those who are not should be provided transitional housing at, for example, vacant hotels throughout the city, so they do not inadvertently spread the virus," said Maher and Senhouse in a statement. "In addition, NYC must immediately stop sending any new people to the jails. And, don't forget about the women at Rosie's."
The Board of Corrections, a civilian oversight group, wrote a letter to the Department of Corrections and Correctional Health Services urging them to follow the lead of their colleagues in places such as Los Angeles, San Francisco and Cook County (Illinois) and release people from the city jails.
"As further detailed below, this immediate reduction should prioritize the release of people who are at higher risk from infection such as those over 50 or with underlying health conditions," read the letter. "Additionally, you must safely release other people in jail to decrease the overall population; this process should begin with people detained for administrative reasons (including failure to appear and parole violations) and people serving 'City Sentences' (sentences of one year or less).
"The process should continue to identify all other people who can be released," continued the letter. "DOC and CHS should provide discharge planning to all people you release, including COVID screening, connection to health and mental health services, and support with housing, as necessary."
City jails are dealing with a lack of hand sanitizers, soap and medical care and with people living extremely close together, which has led to a fear of a rapid coronavirus outbreak in places such as Rikers Island. On Twitter, Public Defender Scott Hechinger expressed frustration with the situation. He wants to help his clients, but can't.
"I feel outrage. I feel helpless. I'm sitting here, essentially quarantined, on my computer typing," said Hechinger. "My wife & son asleep. Hoping somehow this Twitter thread does something. For me, it's not just I don't want people to die. Or hate jail & prison. I know people inside. I'm scared."
"I know an asthmatic father of a 1 y/o locked up on a technical parole violation," continued Hechinger. "I know a kid in his early twenties who was brutally abused & now serving years. I know a profoundly intellectually disabled man, who can't even read the word 'red' jailed on bail he can't afford."