HBO's 'Kill Chain' reveals scary reality: U.S. voting system under attack
NADINE MATTHEWS | 3/19/2020, 2:35 p.m.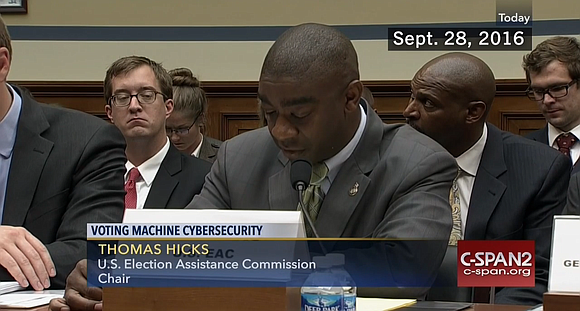 Is America's voting process broken? Recent developments aren't encouraging. For instance, in May of 2019 Sen. Kamala Harris along with twelve other senators, introduced the Protecting American Votes and Elections (PAVE) Act in the senate. It sought to mandate that states secure elections by use of a paper ballot and new cybersecurity standards for federal elections.
Republicans, though, led by Senate Majority Leader Mitch McConnell, have proven to be better at blocking bills than Hakeem Olajuwon was at blocking shots; the PAVE Act was just one of five election security bills Republicans didn't even allow to come to the floor. They also give no indication of allowing any such bill to the floor, even in the face of reports by U.S. Intelligence just last month that Russia is currently attempting to interfere with the 2020 elections.
Harris and the other senators introduced the act after reports, from both Former FBI Head and Special Counsel Robert Mueller and members of the nation's intelligence apparatus, found that Russia had, in fact, tried to influence the 2016 elections via electronic means, and continues to do so daily.
The PAVE Act banned Wi-Fi, internet, and cellular connections for voting machines and authorized the Department of Homeland Security to establish cybersecurity standards for voting machines, voter registration databases, and electronic poll books. In an official statement, Harris emphasized, "Paper ballots are the single best way to secure our elections. Foreign governments can't hack a piece of paper."
HBO's new documentary "Kill Chain: The Cyber War on America's Elections," premiering March 26, sends the same message as Harris; a paper ballot is the best way to safeguard elections and democracy.
"Kill Chain" has Harri Hursti as our guide through the world of ignorance, malfeasance, and incompetence that is the current U.S. voting apparatus. One of the most famous hackers in the world, Hursti in 2005 hacked into U.S. voting machines to make the case that election security had been adulterated by the introduction of computers and the internet into the process. That hack was famously captured in a previous HBO documentary "Hacking Democracy."
In jaw-dropping sequence after jaw-dropping sequence, "Kill Chain" makes it plain that Russia and quite likely other foreign actors are working tirelessly to invade America digitally, and steal the right of the average American to create a government that represents their interests.
What is even sadder, "Kill Chain" shows us that sometimes, it's your own people doing America's electoral process wrong. Republican politicians and corporate voting machine vendors who stubbornly refuse independent, government assessment of their hardware or software, are basically helping foreigners, not Americans.
"Kill Chain" shows election interference deniers' main talking point is always that because the voting systems are so vast and of such great variety, it's impossible to hack into the elections. But they are being disingenuous. That's like saying shooting someone can't kill them because humans are all so different. We're the same when it comes to how to kill us. The voting process is different across the nation in a cosmetic sense but has certain vital aspects in common that, if breached, mean rigged elections.