Plenty to love in Providence, RI
SHERYL NANCE-NASH | 3/5/2020, midnight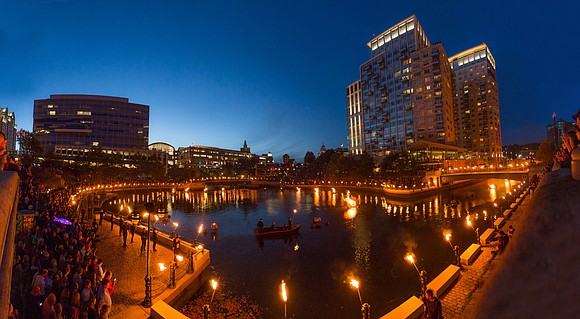 There's something about Providence. It pulls at your heartstrings. Between the cuisine, charm, and personality, this place is special. It's the state capital, home to Brown University and the Rhode Island School of Design. You gotta love a city that has bragging rights for having the most donut shops per capita.
No doubt when you think Rhode Island, the ballyhoo is about Newport, with its yacht-filled harbor and stately mansions. But if you don't explore Providence, you'll cheat yourself.
Come with your appetite: in Providence cuisine is deep in the culture. The eating is good, and then some. You can feast without guilt at the recently opened Plant City, the world's first plant-based food hall. Healthy never tasted so tasty. For sure there's no shortage of restaurants and more keep popping up. Big King is the newest restaurant from Chef James Mark and features a Japanese-influenced and handwritten menu that changes almost daily. With a focus on local ingredients and a sizeable sake list, Big King offers an intimate dining experience. Federal Hill's newest Italian restaurant is Maria Cucina. The restaurant is located inside the historic Italo-American Club and serves authentic Italian cuisine. The restaurant is named after lifelong Federal Hill resident Maria Costantino. Ellie's is a little bit of Paris in Providence. The Dorrance is to die for.
Like rooftops? You're in luck. Located in Wayland Square, Mare is a year-round rooftop restaurant that provides guests with a high-quality seafood dining experience. Their extensive menu was inspired by Mediterranean recipes and dining culture. In the heart of the city you'll find Rooftop at the Providence G. Soak up views of the skyline while chilling by the firepits and in private lounges. Weather chilly? No worries, there's a retractable glass rooftop.
When your belly is full of food and drink, walk it off at the RISD Museum of Art. It houses more than 80,000 works of art from ancient Greek and Roman sculpture to French Impressionist paintings, from Chinese stone and terracotta sculpture to contemporary art in every medium, including textiles, ceramics, glass and furniture. Collections are displayed in 45 galleries on three floors, tracing the history of art from antiquity to the 21st century. Currently on display is "Raid the Icebox Now," the 50-year anniversary celebration of Andy Warhol's "Raid the Icebox I."
You can have a good time in Providence no matter what season you choose. From May till November, typically twice monthly on Saturdays, the three rivers in downtown Providence are transformed. WaterFire, created by Barnaby Evans, is an award-winning fire sculpture installation. There are nearly 100 bonfires that tickle the surface of the rivers. Flames illuminate nearly two-thirds of a mile or urban public spaces and parks. Listen to music, watch performers do their thing and, best of all, take a boat ride amid the flames. It's an experience you'll never forget, especially if you go during October when breast cancer survivors are honored and they––with lighted torches––have a processional to the Waterplace Basin. It's likely to be one of the most beautiful things and don't be surprised by the emotion and tears that well.
If you want to set your eyes on something like you've never seen before, the Jack-O-Lantern Spectacular at the Roger Williams Zoo is an event you don't want to miss. During the month of October you can see the work of many artists who carve pumpkins into the most creative pieces of art. You'll be blown away by the thousands of pumpkins that have everything from scenes from "The Wizard of Oz," "Charlie Brown," "The Nutcracker," rock stars, cute koalas, and just about everything imaginable. It's a magical night, walking through the zoo that's a pumpkin fest.
If you want to go in winter, one thing you want to check out is the Ice Bumper Cars. The Providence Rink is the first outdoor rink to host this experience. The bumper car moves forwards, backwards and sideways with a full 360 degree turn radius.
Put January in contention too. Come mid-January for two weeks, Providence participates in Rhode Island's hotel week where there are flat rates of $100, $200, $300 and $400 for hotels that usually charge upwards of $500 per night.
Explore the city's varied neighborhoods. Each has its own vibe. You'll be pleasantly surprised and find a few that are your sweet spot.