NYC: We're Back - City Enters Phase 2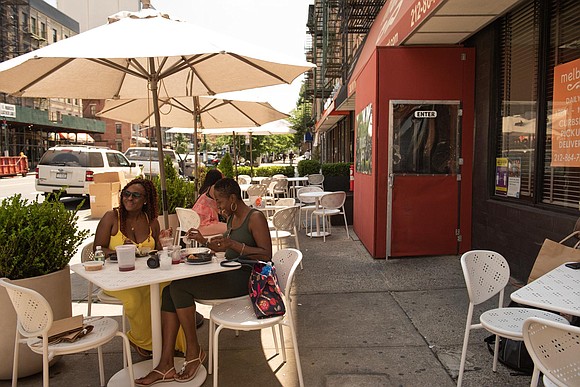 Gates are rolled up, outdoor tables are set and "closed" signs are flipped as New York City enters Phase 2 of the COVID-19 recovery, which permits restaurants to serve customers outdoors, the opening of beauty and barbershops and in-store retail.
Phase 2, which began on Monday, also opens playgrounds, offices, real estate services, car sales and rentals and churches to hold service with 25% capacity. While New Yorkers are enjoying the reopenings, they are also adjusting to new regulations to prevent the spread of COVID-19, including mandatory face masks and social distancing.
Gov. Andrew Cuomo gave the approval for the city to open last Friday, June 19. Cuomo attributed social distancing, mass testing and not opening too soon as factors. Once the epicenter of the nation's COVID 19 pandemic, New York City is now seeing single digit deaths per day from coronavirus and only 1% of people tested are positive for the virus.
"We reopened the economy and saved lives, because it was never a choice between one or the other, it was always right to do both," Cuomo said. "We showed that works in New York. We owe thanks to so many people, to our heroes, the healthcare and essential workers, to our legislature, our colleagues in New Jersey, Connecticut and neighboring states, local governments, the Army Corps of Engineers and most of all, to the great people of the state who rose to the occasion and did what they had to do."
On Monday, Mayor Bill de Blasio called the new phase the "biggest step forward" in fighting back against the pandemic that's kept many businesses closed and people in their homes over the last several months. Up to 300,000 New Yorkers also headed back to work.
"I know a lot of us are excited about seeing the stores in our neighborhoods we love reopening, barbershops and hair salons reopening, restaurants, of course, so much going on that really, really will help us come out of this crisis and move forward, get people back their livelihood," de Blasio said. "This is where most of our economy is. Some businesses are going to open up immediately, some folks don't come back to work immediately. Others will take their time, some are going to watch and see how it goes."
One of those businesses was Denny Moe's Superstar Barbershop in Harlem, which had been closed for four months. Barbers and hair salons must adhere to new safety guidelines including that all employees must wear face masks, requiring service by appointment only and limiting the number of customers at the business.
"It feels good to be back to work," the shop's owner Dennis Mitchell told the AmNews. "There was no revenue coming in and that wasn't a good thing. It's going to be a slow start and we had to put a few things in place but we're trying to keep everybody safe."
Before entering Denny Moe's, customers are required to answer a few questions about any COVID-19 symptoms they may have or contact they have had with anyone with the virus. Mitchel also requires that all customers' temperatures are taken before being served.