"Legalized Murder": Protesters let out frustration, cops respond with force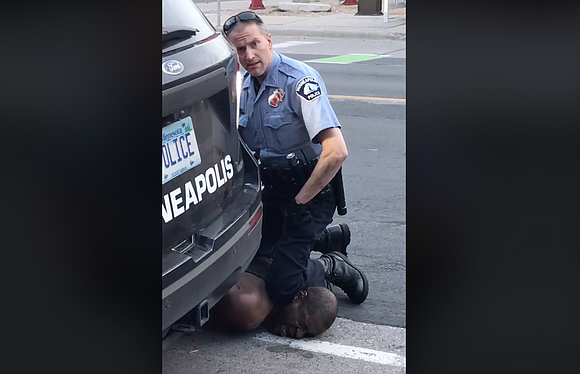 The governor's comments rubbed Police Benevolent Association President Pat Lynch the wrong way. Lynch accused Cuomo of fueling more hate towards law enforcement.
"Governor Cuomo has joined the mob in trampling police officers' rights," he said. "He is the governor of New York State. He cannot prejudge an incident on live TV and then claim that there will be due process for that police officer. He needs to stop pretending to be 'Andrew Cuomo from Queens' and start being a leader. We have terrorists burning and looting our city for three nights running. Neither he nor any other elected official has a plan to stop it, other than wrongly blaming the chaos on the cops. At a time when we need leadership the most, police officers know we are completely alone."
Pres. Donald Trump faced criticism and mockery from the media and political pundits when news leaked that he was hiding in the White House bunker (which is supposed to only be used in case of terrorist attacks) over the weekend. Trump, in a desperate attempt to present himself as a strongman, had military units aggressively clear peaceful protesters from in front of the White House with tear gas and other weapons so that he could walk through and across the street to St. John's Episcopal Church and pose for a photo. Trump, and First Lady Melania Trump who is Roman Catholic, stood in front of a statue of John Paul II for a few minutes while Trump held a bible in his hand. His actions were met with disdain from Washington Archbishop Wilton Gregory.
"Saint Pope John Paul II was an ardent defender of the rights and dignity of human beings. His legacy bears vivid witness to that truth," said Gregory in a statement. "He certainly would not condone the use of tear gas and other deterrents to silence, scatter or intimidate them for a photo opportunity in front of a place of worship and peace."
"The bible is not a prop," said Gregory.
Meanwhile, de Blasio instituted an 8 p.m. curfew in the five boroughs for the rest of this week, but that drew some pushback. Human NYC, an organization that focuses on the homeless on the streets and in subway stations, said that their constituents don't have a place to call home and don't want to experience the drab conditions of a shelter.
"The #HomelessCantStayHome campaign stands in solidarity with the protests and condemns the curfew. Thousands of homeless New Yorkers have no other place to go," said Human NYC Executive Director Josh Dean. "For over two months, homeless New Yorkers and allies have been demanding that Mayor de Blasio open private hotel rooms for homeless New Yorkers, including those living on the streets. The city has failed to meet these demands. The enactment of the curfew is yet another way the city is turning a blind eye towards our homeless neighbors by refusing to offer essential protection from both police violence and from a global pandemic"