People Power: Protests sparked across America for George Floyd
NAYABA ARINDE Amsterdam News Editor, CYRIL JOSH BARKER Amsterdam News Staff with additional reporting AMADI AJAMU Special to the AmNews | 6/4/2020, 8:08 a.m.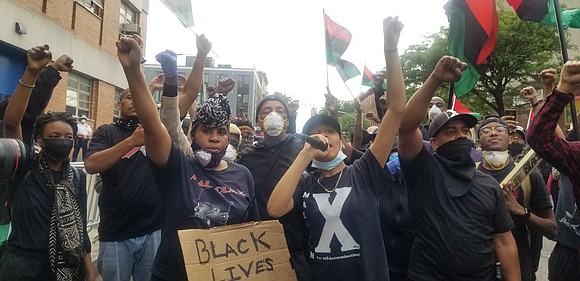 With the COVID-19 pandemic keeping people afraid and shut in their homes for the better part of three months, thousands were brought out of that uncertain state by outrage over the barbaric and callous killing of a handcuffed man on a busy street in Minneapolis, by a seemingly determined and indifferent then-police officer, Derek Chauvin.
From Minneapolis to New York to Atlanta to Alaska, the death of Black, unarmed George Floyd has caused a ripple effect across the nation with protests calling for changes in the way America polices its Black citizens. In the week after the May 25 police killing in Minneapolis of Floyd, which was caught on video, reaction to the Black man's death has resulted in mass demonstrations resulting in over 5,600 people being arrested, police taking a heavy hand and even Pres. Donald Trump calling for military enforcement to quell the chaos.
Reports indicate that as of June 1, more than 200 U.S. cities have seen protests ranging from major metropolitan cities to small rural communities in reaction to Floyd's death with chants of "I can't breathe!" and "Black Lives Matter!" Activists say that while the graphic video of Floyd's death is causing reaction, constant confrontations and mistreatment by police towards Black citizens is fanning the flames.
Cities like Mayor Ras Baraka's Newark, in New Jersey proudly noted their violence-free protests, while New York City communities joined those across the nation in identifying and demanding that agitators take their undeclared projects elsewhere.
Officers arrested, charges upgraded
The other 3 cops involved in the Floyd case, Tou Thao, Thomas Lane and J. Alexander Kuenghave, been arrested and charged; and Chauvin's charge has been upgraded to 2nd-degree murder.
Outing agent-provocateurs has become something of an instant consequential repercussion; from outing white women scrawling "BLM" for Black Lives Matter on an L.A. Starbucks, to turning over a white demonstrator who was destroying property to assembled cops.
As the after-dark protests became more violent, many Black activists charged that some groups were enacting insidious agendas at the expense of Black pain. The angst of an outraged community must not be used to further the programs of other opportunistic groups, slammed New Black Panther activist Divine Allah.
"It has been said that local and national authorities should be glad that all the youth are looking for is equality, and not revenge," said the New Jersey-based activist and community leader. "The murders of George Floyd, Ahmaud Artery, Breonna Taylor demands a fundamental shift in thinking and behavior. The youth are using the language of the unheard, political policymakers should use what they have to bring accountability and responsibility to those who have brought us to this civil unrest and national tensions. We need them to have other avenues of expression like self-sustaining communities. We have to teach them about self-empowerment, and self-determination."
This week saw mainstream media reporting the speculation that far-right fascist groups have infiltrated and organized the wholesale violence.
About a dozen major cities, including New York, have implemented some type of curfew in an effort to keep people out of the streets and to curb violence. "The uprising spreading across this country is fueled by systemic racial issues that have been ingrained in the fabric of this nation for decades," said NAACP Pres. Derrick Johnson. "As we've seen over the last few days, these issues have now manifested into anger, sadness, fear, and confusion. Many throughout the country are left to consider at this moment after watching the horrific footage of George Floyd: When is enough, enough?" Protests in Minneapolis began the day after Floyd was killed. Violence soon began with the fatal shooting of a man accused of robbing a pawn shop by the store's owner. Images of fires began making their way across news networks including the burning of a Minneapolis police precinct. While most of the protests have been peaceful, some have been seen looting and vandalizing. A reported 170 businesses in Minneapolis have been damaged. In a now viral video from Minneapolis, activist Tamika Mallory said the reason buildings are burning is because Black Americans have had enough. "There's an easy way to stop it. Arrest the cops. Charge the cops. Charge all the cops—not just some of them, not just here in Minneapolis," Mallory said. "Charge them in every city across America where our people are being murdered. Charge them everywhere. That's the bottom line. Charge the cops. Do your job. Do what you say this country is supposed to be about, 'the land of the free' for all. It has not been free for Black people, and we are tired."