Jason Weems comes back to life in 'Unknown' Aug. 4
LAPACAZO SANDOVAL | 7/30/2020, midnight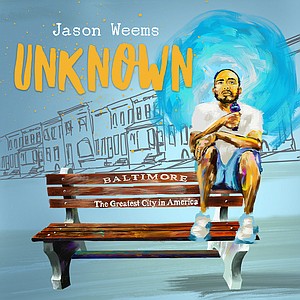 Jason Weems died. It was May 3, 2017, just an ordinary day for the comic. He jumped into his car to drive to his next comedy gig in Philadelphia, and at this point he was at the height of his career. The buzz started in 2014 with appearances on NBC's "Last Comic Standing," Fox, HBO, his online series "The Lunchtime Show" which premiered on Marlon Wayans' comedy platform WhatTheFunny.com, and the work kept coming, especially the comedy club bookings which are the lifeblood of a comic's life.

On stage, Weems recalls that his set was on fire with the audience providing the kind of kinetic energy that makes comics thrive. The more the crowd laughed, the more elevated Weems became pushing him higher, and then he stopped. The tell-tale-signs of an asthma attack were taking over his body.
He remembers leaving the club, trying to get to his car, and people asking questions and then…
nothing. He was clinically dead for five minutes before the medics got his heart beating again. He was 36.
Here is what comic/writer/producer Jason Weems has to share about waking up, fighting for his life, and his brand new special comedy special, "Unknown," which drops on Aug. 4, 2020, on 800 Pound Gorilla Pictures.
Amsterdam News: Jason Weems is it true that you died? I'm talking to a dead man?
Jason Weems: (laughing) It's true. I straight-up died.
AMN: OK.
JW: I was dead for a whole five whole minutes. My wife was a widow.
AMN: Can you take us back a little bit?
JW: Sure. In comedy, [dying] is a comedy term thrown around all the time. It's when people are "bombing" on stage. A lot of times when people hear that I'm a comedian and I died, they think that I just had a bad experience on stage. It's the literal meaning of the word.
I had a severe asthma attack—May 3, 2017—it took me out. I was gone for five minutes. No heartbeat. No pulse. They were afraid I had brain damage. They had me on a ventilator but I still wasn't responsive. I spent the night at a hospital fighting for my life; the club's booker had no idea who to call. She didn't have my wife's phone number. My phone was locked. So she tweeted into the comedy void: "Does anyone know @jweemscomedy's family?" My fellow comedians sprang into action.
I woke up and one of my first thoughts was, "I need to get the f— out of this hospital. Just put a blanket on me and roll me out like Tupac." I knew this dying s—'s gotta be expensive.
AMN: Would you say that dying inspired you somehow?
JW: Absolutely, yes. Yes, it did.
AMN: So. What's next?
JW: My new hour comedy special "Unknown" drops August 4 on 800 Pound Gorilla
Pictures. And there is also a comedy album of the special. https://vimeo.com/315798219
AMN: Hey Jason Weems, I am glad that you are alive.
JW: So am I.
To learn more about Jason Weems:
Website: http://jasonweemscomedy.com
Facebook: http://www.facebook.com/jasonweemscomedy
Twitter: http://www.twitter.com/jweemscomedy
Instagram: http://instagram.com/jasonweemscomedy
Youtube: http://www.youtube.com/jasonweemscomedy