Community Calendar January 30 - February 5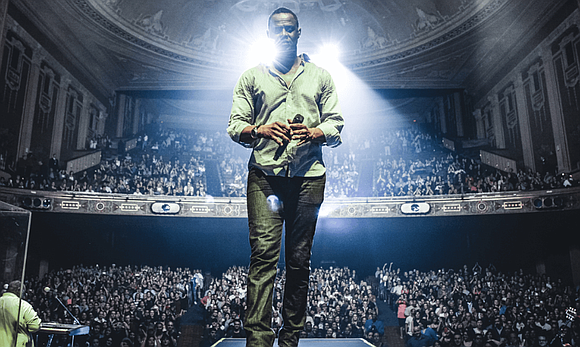 Boyz II Men, Thurs., Feb. 13, 8 p.m. , State Theatre-N.J., New Brunswick, N.J. For information, visit: www.stnj.org
The Bowery Presents: The Raphael Saadiq-Jimmy Lee Tour, Jamila Woods, DJ Duggz, Thurs, Feb. 13, 8 p.m., Terminal 5, Manhattan.
Brian McKnight, Thurs. Feb. 13, 8 p.m., Bergen Performing Arts Center, Englewood, N.J. For information, visit: www.bergenpac.org/events-tickets/box-office
Ms. Lauryn Hill, Fri., Feb. 14, 7 p.m., 5 Seymour St. The Wellmont Theater, Montclair, N.J.
COMEDY
Valentine's All Star Comedy Jam: Bill Bellamy, Luenell & Don DC Curry in Newark, New Jersey at New Jersey Performing Arts Center–Prudential Hall on Sat. Feb. 15, 2020. New Jersey Performing Arts Center–Prudential Hall is located at One Center St in Newark, N.J. For information, visit:njpac.org.
FILM
"Just Mercy" starring Michael B. Jordan and Jamie Fox. World-renowned civil rights defense attorney Bryan Stevenson tells his story of fighting for the freedom of a condemned death row prisoner he fought to free. Check theater listings. Note: This movie has earned an A+––a perfect score––with CinemaScore moviegoers.
COMMUNITY
Dred Scott Keyes, WBAI's longtime, award-winning engineer and programmer, became an ancestor in December 2019. He will be remembered with a series of re-broadcasts of "Cutting Edge" on Wednesdays at 9 p.m., in his usual spot. Listen at 99.5FM or at www.wbai.org/listen-live/. Program archives are at www. wbai.org/archive/.
The late Dred Scott Keyes will be sent forward in a Memorial Service and Celebration of Life on Sat. Feb. 1, from 2-5:30 p.m. at the House of the Lord Church, 415 Atlantic Avenue btw. Bond & Nevins Sts., Brooklyn. (Unfortunately, the space is not wheelchair accessible.) Please RSVP: Send your name and the number of attendees to Mimi Rosenberg at MERosenberg@legal-aid.org, with "Dred" in the subject line.
In celebration of Black History Month, the world famous Apollo Theater opens its doors for "Open House 2020: Celebration of Cool" a unique and free glimpse into the Apollo's rich history and current programs Sat. Feb. 1 from 1 p.m.-6 p.m. at the theatre, 253 West 125th St., Harlem, NY. For information, call 212-531-5305 or visit: www.apollotheater.org
Oprah 2020 Vision tour is coming to the Barclays Center in Brooklyn on Saturday, Feb 8. Join Oprah as she sits down for an intimate one-on-one conversation with some of the biggest celebrities, headline-makers and game-changers. Barclay's Center, 620 Atlantic Ave., Brookyn. For information, call 917-618-6100; tickets on sale now at Ticketmaster.com.
Listen to Imhotep Gary Byrd's "Express Yourself," Sunday evenings from 7 p.m. to 9 p.m. on WBLS-FM and simulcast over WLIB 119AM. The full show can also be heard on HD radio at WBLS-HD2 and at WBLS.com, WLIB.com. IGB's "Radio GBE" is heard Fridays 7 p.m. to 9 p.m. Archived online at www.wbai.org. For bookings or to reach us about your GBEvent or for comments, email co-editor Nyerere, nyerere1@aol.com, find us at Imhotep Gary Byrd on Facebook or call 212-592-3279.