Our Table Cooperative in Sherwood, Oregon
SHERYL NANCE-NASH | 1/9/2020, 11:57 a.m.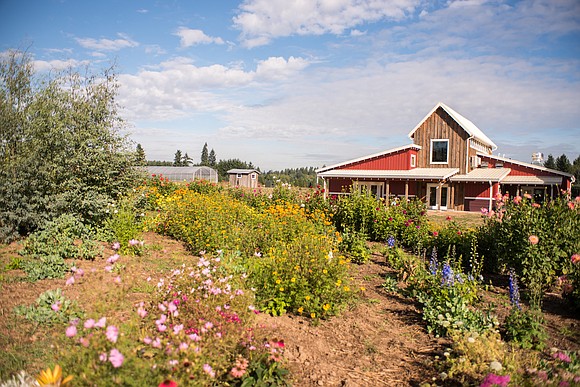 Portland is Oregon's must-go destination, but there are plenty of places within two hours or less worthy of a day trip. Much depends on what's your cup of tea. Are you a beach babe, a hiker, art aficionado, foodie? Whatever your passion, there's likely a pitstop, or two or three, just for you.
Here's where else to venture beyond Portland.
If you're a wine lover and looking for something different, there's nothing typical about winemaker Bertony Faustin. He's Oregon's first African American winemaker. He quit wine school after three months and decided to learn by doing. His Abbey Creek Vineyard label, now 11 years old, offers a mix of estate wines, such as Pinot Noir and Pinot Gris, as well as wine produced from grapes sourced from Oregon. When you go to his tasting room in North Plains, you'll get the unexpected too. He's likely to be in his signature overalls, laughing and chatting up customers. The vibe is chill with jazz, hip hop or R&B playing. The Chardonnay is so popular you see some people not satisfied to buy a bottle or two, and instead getting a case. Bet you probably never had Brazilian hot sauces on your wine paired nibbles. That's just one more reason to stop in for a truly unique experience. While you're in the area, venture about 30 minutes more to Canby. If you're a cheese lover, the drive is worth it to the TMK Creamery. The garlic dill cheese curds, smoked cheddar wedge, and queso fresco are over the top.
You can find big city art Lake Oswego, a small town of less than 40,000 residents. In downtown and throughout the city you'll find dozens of sculptures, of all shapes, sizes and material––glass, steel, stone, for example, many by locals, and most by artists from the Northwest. Newbies and established pros get a chance to showcase their work on street corners, park plazas, city hall and elsewhere. It's called the Gallery Without Walls and surely defines the city. The Arts Council of Lake Oswego runs ARTspace & Gallery, a visual arts gallery space with rotating monthly exhibitions. It also sponsors family art making days, adult painting lessons and community events like "Drink & Draw," where you drink, paint and meditate. There are summer concerts in the parks and the Lakewood Center for the Arts boasts cultural programming and is home to the Annual Festival of the Arts. When you're famished from walking around looking at that inspirational art, no worries, there's good eats too. Drop into Holy Taco, Five Spice Seafood + Wine Bar, Baird's on B Bar & Grill, or a host of others.
For those that love brunch, head to Sherwood for a Sunday brunch you'll always remember, make your way to Our Table Cooperative. Set on a 60-acre farm, sit at a large, long, elegantly styled, community table, and get to know locals. With mimosas flowing the chatting picks up and some strangers become friends. Expect an outrageous three-course meal with local ingredients. Take for example, Oregon Escalavida––grilled, then chilled late spring and early summer vegetables, white bean puree, popped quinoa and herbs. Followed by a wild mushroom biscuit and gravy, soft hen's egg, micro salad and crisped shallots. Topped off with dessert, Overnight Oats Budino, blueberry basil compote, salted honey whip, toasted oats and coconut.