Irving trying to get back on the court, off the sidelines
VINCENT DAVIS | 1/9/2020, 6:23 p.m.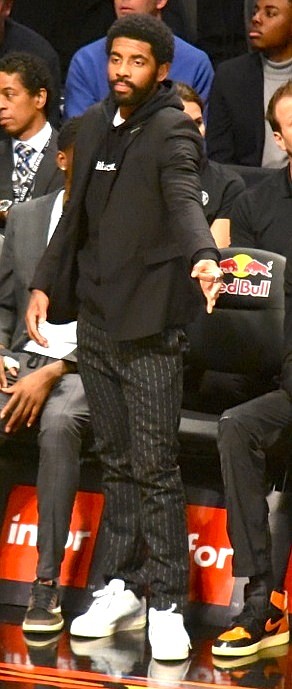 The president's State of the Union Address is scheduled for next month. The governor of New York's State of the State Address was held earlier this week. The Brooklyn Nets' injured all-star guard Kyrie Irving gave his state of his health address on Saturday.
Irving, who signed with Brooklyn during the off season, has been sidelined with a right shoulder injury since November, and has missed 25 games so far.
"It just sucks," said Irving. "It really is disheartening when you are working your tail off to be at a certain level, and your shooting shoulder just starts to give out on you a little bit."
3"You are looking at it like, 'Hey, it's just a shoulder. Let me ice this thing and get back out there.' But you keep feeling something in your shoulder and you're trying to explain it to the medical staff. You're trying to explain it to all these experts out there."
With all of the work that he put in, the shoulder hasn't healed. He's still not back on the court. Irving was speaking to sports media members for the first time since his injury. He was given a cortisone shot on Christmas Eve. It's an attempt to postpone or avoid a potential surgery. It will take a month or two to determine if the shot will have an effect. One of the reasons it's taken this long to heal is because Irving tried to heal naturally, without injections.
"I am in a better place now that it has been a significant amount of time," Irving continued. He and the Nets' medical team will determine what's next at the appropriate time.
"The next step in any progression was to either get a cortisone shot or to get surgery. That was the ultimatum I was fixed with. Now, I'm just doing the best I can to live off this cortisone and move forward, if I need surgery."
Irving still experiences pain taking a jump shot and can't have contact when practicing.
"A cortisone shot lasts as long as it can. You either continue to get cortisone shots, which is obviously detrimental to your health and your muscles, or you go get arthroscopic surgery," Irving explained.
"For me, it's just about being able to go back out there after the right amount of rehab, the right amount of rest and recovery and see what we can do for the rest of the season, and then, reevaluate after a few months."