Boxing champion Sweet Saoul Mamby passes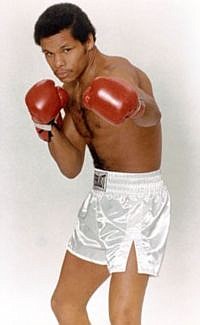 An elite list from the pugilistic community came out to Harlem's Williams Institution CME Church (2239 Adam Clayton Powell Jr. Blvd.) this past Dec. 28 to celebrate the life of former world boxing champion, Saoul 'Paul' Mamby, 72, who passed on Dec. 20, 2019. Many of his relatives, fans and friends were also present.
Saoul was born in Manhattan June 4, 1947 to Caribbean parents and embraced Judaism as a child, attending a Hebrew School at the Bronx's Mount Horeb Synagogue. He began boxing in 1963, competing in the 1965 and 1966 New York Golden Gloves. After amassing a 25-5 amateur record, and serving in the Vietnam War, he turned pro Sept. 13, 1969. He resided at the Bronx's Tracy Towers for many years.
He mastered the art of the sweet science in the square circle of 'hit & don't get hit,' eventually earning the nickname "Sweet Saoul." He'd compile a 26-12-5 record before stopping Kim Sang-Hyun in the 14th round in South Korea on Feb. 23, 1980 to win the WBC Super Lightweight Championship, which he defended 5 times over the next 2 ½ years.
The fearless warrior globetrotted to Asia and Africa facing 13 men who at one time or another were world champions, from Roberto Durán, Antonio Cervantes, Billy Costello, Buddy McGirt, Maurice Blocker, Javier Castillejo. He stopped former WBC lightweight champ Esteban De Jesús in 13 rounds on the Larry Holmes-Scott LeDoux undercard (7-7-1980), and won a 15 round decision over Termite Watkins on the Holmes-Ali undercard (10-2-80). A proposed 1982 unification with WBA champ Aaron Pryor fell through.
He continued fighting into his 50s, winning 45 of his 85 contests, with 6 draws. He had a granite chin, only being stopped once, against undefeated Derrell Coley (8-13-93), at 46 years-old. Along the way he beat undefeated contender Larry Barnes, for the New York State Welterweight Title, at 43.
Longtime friend and former lineal-Heavyweight World Champ, Larry Holmes, opened the memorial services by recalling their friendship going back "so long," over forty years. "He taught me what to be afraid of and what not to be afraid of, what to do and how to do it." Adding how they used to spend hours on the phone discussing boxing. "I'm going to miss him. May he rest in peace."
Then publicist Flow Anderson paid respects to Mamby's family, before saying "He gave me my first job in boxing. He was the epitome of what [a champion is]. His life was an inspiration to all." She also mentioned "the many, many, many wrong decisions he was handed throughout his long career," before adding, "You never needed a title or a belt to make you champion. Your fierce heart and intense love for so many people always made you a champion. Rest well my friend."
Mamby's widow, Yolanda, explained how "during the last two years he suffered from memory loss," adding that, "Saoul loved all his children equally. He was a good man and good father."
Former WBO Middleweight Champion Lonnie Bradley recalled meeting Mamby when he was 17-18 years-old at Harlem's Knights Community Center "when I started boxing. As I was learning the craft he'd talk to me, [giving pointers]. It was a great honor to have met this man."
Former WBA Welterweight Champ Aaron "Superman" Davis, former-light-heavyweight contender Richard Frazier and trainers Tumbler Davis and Ron Johnson were present.