Stringer talks M/WBE success (or lack of) with Black stakeholders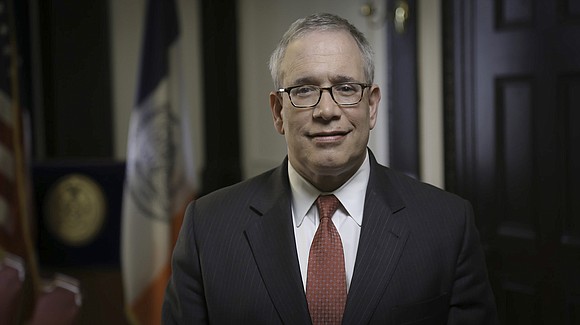 New York City Comptroller Scott Stringer brought dozens of Black stakeholders to his office, last Thursday, Feb. 13, to unveil his latest minority- and women-owned business enterprises (M/WBEs) report.
Stringer used this report to update them on how city agencies are doing in regards to contracts with M/WBE. He found room for improvement despite holding steady or making small gains when compared to 2019.
The report, titled "Making the Grade: New York City Agency Report Card on Minority- and Women-Owned Business Enterprises," outlines the challenges many MWBEs face attracting money from city agencies.
"When we take a closer look, we find that the city is improving in some areas, but still failing in others," Stringer said to those in attendance.
The city earned a B grade when it came to spending on Asian New Yorkers, a C grade with Hispanic New Yorkers, a D grade with women New Yorkers in general and an F grade with Black New Yorkers.
City agencies spent a total of $911.9 million with M/WBEs in Fiscal Year 2019, which is a $180.8 million increase from FY 2018. For the first time in the report's history no agencies received an overall F grade while the city as a whole earned its first C grade after four consecutive years of D+ grades.
While some of the news seemed bleak, Stringer did note some progress.
"When we first looked at the city almost 70% of the agencies were receiving D's and F's," said Stringer. "But this year, the Department for the Aging and the Department for Mental Health and Hygiene maintained their A grades and for the third year in a row the Commission on Human Rights earned an A grade showing over 80% went to M/WBEs."
Since Stringer took over as City Comptroller in 2014, he's commissioned an annual agency-by-agency report evaluating the M/WBE program and recommending improvements along the way.
"When I came into office, I realized early on that the process was not fair," Stringer said to the AmNews. "We started to look at some numbers and we realized that the city was spending all of this money and it wasn't going to minority- and women-owned businesses and then we strategized about what to do about it."
Celeste Morris, president of MorrisAllsop Public Affairs, offered some recommendations.
"The same contracting officers have been in these agencies forever," said Morris. "They have relationships with people they already buy from. They don't want to change those relationships and we need to move those people around sometimes so that we can really develop new relationships." Morris also said that Black business owners don't have strong advocacy groups that talk about their issues enough.
According to the report, 69% of respondents found that city agencies were unresponsive when they reached out to M/WBE Officers, Chief Contracting Officers or other related liaisons. More than 60% of respondents said they never had support navigating procurement systems, like City Record Online, which is the city's public database for contracting opportunities. Thirty-eight of respondents said that they weren't aware of these procurement opportunities at all.