Rider women's hoops continue to excel
Lois Elfman | 2/20/2020, 1:25 p.m.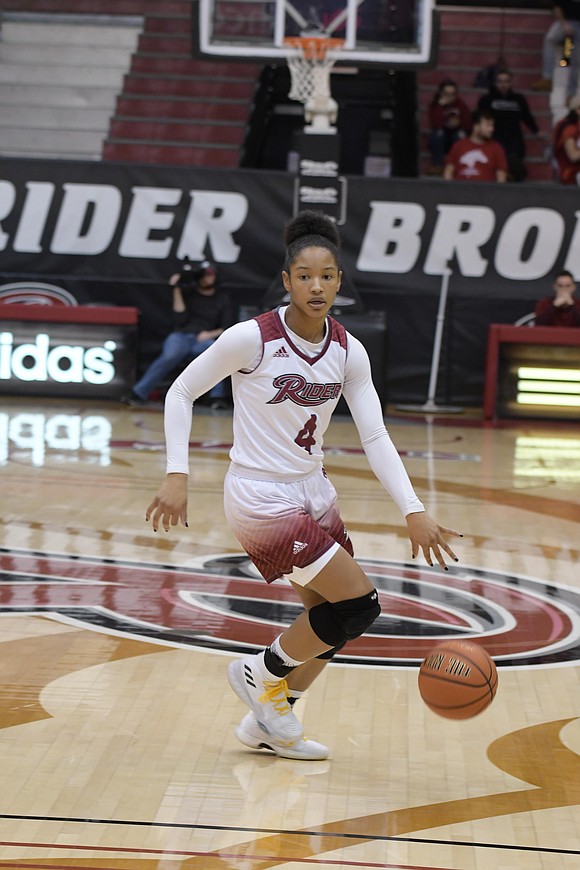 With conference play reaching its crescendo, Rider University women's basketball continues taking things one game at a time, and the wins keep coming. Currently 19–4 overall and 12–2 in Metro Atlantic Athletic Conference play, the Broncs head into the final four games of regular season unrelenting in their practice, preparation and determination.
"The core group, that's the senior class, have been playing together for the better part of three years, and I think it was their time," said Rider coach Lynn Milligan. "They've been through the good and the bad over the years. They've been through getting close, losing some tough ones, winning some great ones, and I think it's them putting it all together. Playing with that little chip on their shoulders and that sense of urgency right away when the season started."
Rider women's basketball has never earned a spot in the NCAA Women's Division I Tournament. The Broncs have played in the post-season WNIT two of the last three years, and the six seniors are ready for more.
Senior guard Stella Johnson is averaging 25 points per game and remains the scoring leader in Division I. What makes her accomplishments better is that everyone on the team is playing at a high level and contributing to the wins. Senior guard Amari Johnson is averaging 11.7 points and 10.9 rebounds per game.
"The reason why they play so well and so confidently is because Stella has so much confidence in them," said Milligan. "She's the least selfish player you'll ever see. She's very efficient. She wants her teammates involved. She trusts them. She knows that the better we are as a team, the more we're going to win.
"If teams want to send two or three people at Stella, she knows that Lea [Favre], Amanda [Mobley] or Amari are going to make the shot," she continued. "We have a lot of different scoring options that she believes in and she trusts, which gives our players a lot of confidence."
Milligan is herself a Rider alumna and to see this team succeed gives her great satisfaction. While the Big Dance is the ultimate goal, the players, coaches and staff are doing their utmost to stay in the moment and having a day-to-day, week-to-week mentality.
"In order to get where we want to be, there are so many steps that we can't skip throughout that process," said Milligan. "It's easy to look ahead, but if you look too far ahead, you miss some steps and we don't want to miss any steps."