HFW's first Black Girl Magic Gala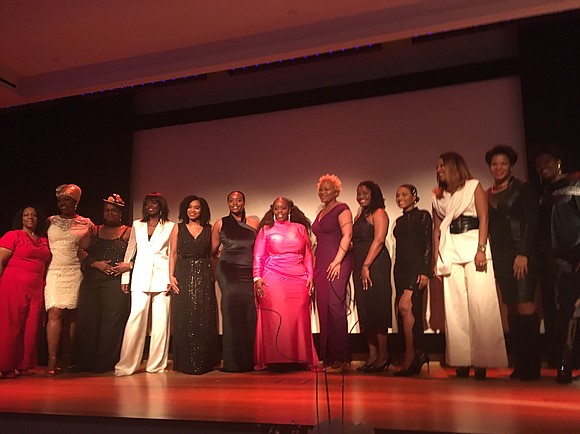 Last Saturday, February 15, Harlem Fashion Week's (HFW) launched their first Black Girl Magic Gala which was a huge success! What a fantastic idea. Held at the Museum of the City of New York, this well-attended affair celebrated HFW's eighth season of hosting New York fashion week events. Harlem Fashion Week was founded by mother/daughter owners Tandra Birkett and Yvonne Jewnell, also the owners of the fashion design company Yvonne Jewnell New York LLC. The proceeds benefitted the students of High School of Fashion Industries (HSFI), the event was well-attended. After their Black Girls Magic Gala, HFW showcased the fashion collections of the school's top designers in three fashion shows after the gala. The HSFI students showed
smashing collections.

The gala honored 11 transformational women including Inez Dickens, Honorable NYS Assembly woman; Dee Poku, founder/CEO of WIE; Selena Hill, digital journalist/on air talent; Milliner Evetta Perry, designer/owner of Harlem's Heaven Hats; Sade Lythcott, CEO of The National Black Theater; Diane Bailey, CEO/founder of EMERGE; Angie Hancock, founder of Experience Harlem; Lydia T. Blanco, digital journalist/on air talent; Mahisha Dellinger, founder of Curls; Kimberly Wilson Marshall, founder/CEO of Wilson Marshall PR; and Rev. LaKeesha Walrond Ph.D., president of New York Theological Seminary.
As they accepted their awards, these professional women shared stories about their roads to success and gave inspirational advice. The Brownstone's Princess Jenkins was the mistress of ceremony. There was an exceptional performance by Bombazo Dance Company. Delicious hors d'oeuvres and beverages were served.
Giving the school's next generation students a platform to show their designs, HFW was honored to partner with HSFI. It's the schools mission to provide challenging, occupational, technical and academic training for New York City students. Harlem Fashion Week's mission is to continue to create a platform for rising stars in the Fashion Design Industry. Their legacy continues.
CORRECTION:
On last week's Trends page, the name of the florist in the photo was Franz James.
Also, in the fall fashion piece on top of page, Cara Kennedy is the ambassador for Chiara Boni's initiative, "Measuring for Sustainability." Cara Kennedy is not associated with the Indian brand Secteur 6.