Book Review: 'Trailblazer' by Dorothy Butler Gilliam
Herb Boyd | 2/20/2020, 4:37 p.m.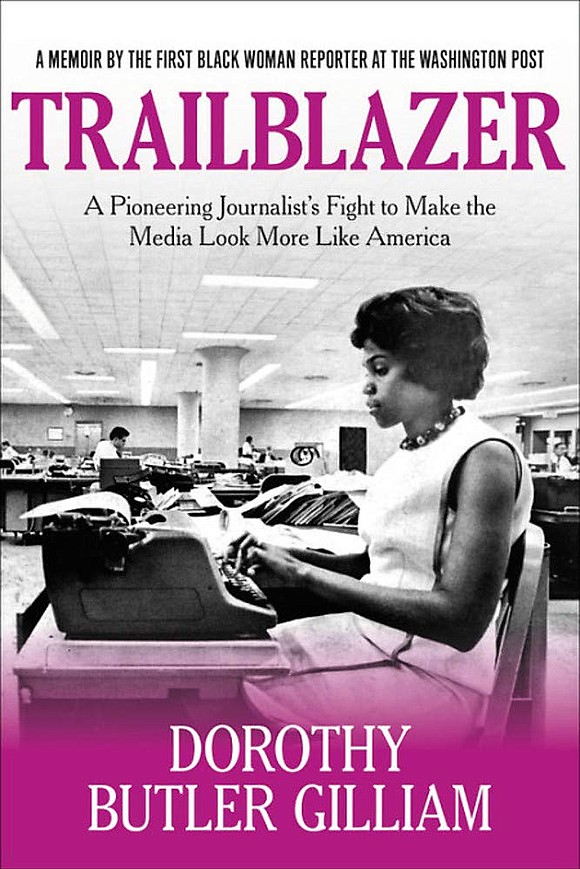 As a teenager living in the projects in Louisville, Kentucky and working as a part-time secretary at The Louisville Defender, the city's African American paper, Dorothy Butler Gilliam got her first assignment as a journalist. She was only a few weeks at the paper when the editor asked her to fill in for the sick society page editor. "Suddenly, with no journalism experience and only recently reintroduced to housing with indoor plumbing, I was launched into 'Black society.'"

That moment not only gave her an opportunity to cover the city's thriving Black upper echelon, but put her on a pioneering path in the newspaper world, an odyssey she recounts in her autobiography, "Trailblazer," with the same gift of storytelling that characterized her reporting.
When Gilliam was hired at The Washington Post in late September 1961, she was the paper's first Black woman reporter. "My initial nervousness made me feel a bit like a lone soldier about to face an army, or a fledging swimmer getting ready to dive into an ocean where she would have to learn to swim while the waves roared relentlessly toward the shore," she wrote.
Gilliam not only mastered the turbulent metaphorical waves and beat back an army of slights and improprieties, she established herself as a journalist of impeccable integrity and one resourceful and reliable clarion voice on domestic and foreign affairs. From her catbird seat at The Post, first as a reporter and then as an editor in the Style section, she was able to monitor events and eventually assign reporters to cover significant personalities and historic cultural moments.
Most riveting are her accounts of the Civil Rights Movement that really introduced her to a loyal readership who followed her as she weaved in and out of the violence and dangers of Mississippi when James Meredith was seeking to be the first Black student at the University of Mississippi. Fortunately, she was working with the renowned photographer Ernest Withers, who was her partner in their coverage of the turmoil in Little Rock, Arkansas in 1957 when nine Black students broke the color barrier at Central High School.
Unlike the white reporters covering the tumult in Oxford, living accommodations for Gilliam and Withers were not that available; Withers suggested they contact a Black funeral home to solve their problem. "Withers found other quarters," Gilliam wrote, "but I was grateful to stay at the mortuary—a spare room in the family quarters upstairs from where the bodies were received and prepared for burial." Black reporters had to resort to other means of survival, Gilliam said during an interview at the Apollo Theater where she shared the stage with this reporter and Taylor Branch. Sometimes they had to carry Bibles to make it appear they were preachers as well as false credentials if they were accosted by l
ocal authorities.
Despite the potential dangers of the assignment, Gilliam found a number of rewarding situations, including one highlight when she had a chance to interview Medgar Evers, the state's first NAACP field secretary, and she was at The Post when he was assassinated in 1963. Losing Evers was unsettling enough for her and the nation, and it reminded her of the premature death of L. Alex Wilson, her boss when she worked at the Memphis Tri-State Defender. He died in 1961, four years after being viciously attacked by a white mob during the Central High School struggle for integration.
As a reporter at The Post, Gilliam witnessed a number of milestones in America, including the Watergate break-in that led to the impeachment of President Nixon and his eventual resignation. "I wasn't part of the editing or reporting of the story, but I was curious about how it was developing." At that time she had returned to the paper after a maternity leave. She was also at her desk when President Kennedy was assassinated, when Dr. King was assassinated in 1968, and she followed the episode of several African American reporters, called the Metro Seven, who issued a demand for more editors and a more decisive role in what stories needed to be covered. She was not among the staff members and not back with the paper but feels that action played a role in her
getting a promotion.
Being at The Post meant Gilliam was in the vortex of political developments, both foreign and domestic, and consequently she met, interviewed or hobnobbed with cognoscenti of the world, including the reporters, editors, and owners of the paper.

Still, there were pages to discuss her family, especially her now very successful daughters, and her marriage, divorce and ongoing good relations with her ex-husband the artist
Sam Gilliam.
"Trailblazer" is a book that showcases Gilliam's eventful life, but it distills so much more about the news industry, Black history and politics, and global affairs, particularly African issues. Always an insightful and engaging reporter, now Gilliam can rightfully make her claim as an author with a number of revealing stories to tell.