Black Local 3 members push for a seat at the table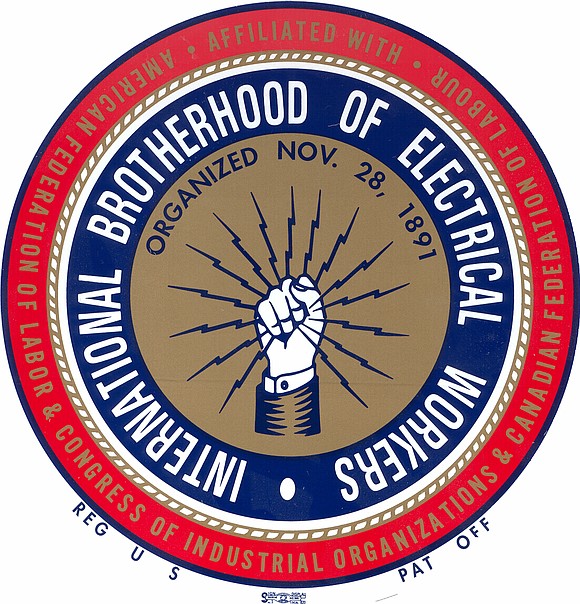 Black International Brotherhood of Electrical Workers Local 3 members want union leadership to do right by them.
William Hargraves and members of the Granville T. Woods Association met with the AmNews to discuss a problem that hasn't been resolved for years. They claim that incidents of racism have been ignored or treated with kid gloves and talks of diversity continue to ring hollow with each passing day.
"We just wanted to get this out," said Hargraves. "We want these stories shared."
Terri Fields is currently a journeyman, but was a sub foreman during her incident, which took place at 401 Ninth Ave.
On Monday June 3, 2019, Fields said they were leaving work at about 3:30 when a Black male apprentice came to her and said that someone had put a noose in his work area. Earlier that day he had had an argument with another journeyman—a white man—so he automatically assumed that this person did it to him. Since it happened during the day and Fields had somewhere to go, she said they would figure it out the next morning.
"Everyday we have safety meetings. We call them tool box talks," said Fields. "So the next morning at the tool box talk, I was there and the other guy who made the noose, but we didn't know it yet, was there too [also a sub foreman]." The apprentice mentioned that he had found a noose at his work area and the foreman said he made it. As everybody in the room was in shock, he said in front of all of us that he was just 'f*cking around.' That it wasn't personal to that apprentice."
Right after that happened, Fields called the general foreman to notify him of the incident. The general foreman spoke to this apprentice, the subforeman and the second-in-command-foreman. The apprentice said he wanted to discuss the incident with the shop steward and the shop itself. "The apprentice thought about going to the police to file charges because there was no union discipline on the way." All parties were questioned by the police but, according to Fields, the situation still hasn't been resolved.
One of the reasons Hargraves believes that nothing's being done is the lack of policies in place that would force the higher-ups to do something. He believes that more rules and regulations would give Local 3 leaders the proper path to disciplining constituents.
"If you have a fight in school, they suspend everybody involved," said Hargraves. "If there's a fight in the NBA, and you step on the court [from the bench], you get suspended and fined. That's a policy. We have no policy." Fields noted that there needs to be a policy similar to those in place that address sexual discrimination.
"Men don't even play those kind of games right now because they're afraid of what's going to happen to them," said Fields. "Because of the policies that are in place.'
But none of this is new to Hargraves and company.
In 2017, the AmNews wrote about Hargraves and other electricians holding a protest in front of the Joint Industry Board of the IBEW Local 3 in Flushing, Queens. Picking Black Solidarity Day (Nov. 6) to protest, Hargraves said that he and the Granville T. Woods Association were just advocating for fair and just treatment for Local 3's workers of color. They want IBEW Local 3 Business Manager Christopher Erikson to practice what he preaches about a zero tolerance policy for discrimination and diversification training.
The Granville T. Woods Association is named after the African American inventor who helped develop the streetcar and the telephone.
"The point is that they're recognizing the gender issue and not the race issue," said retired Local 3 member Ron Lalande. "Here's this guy admitting to an open meeting that he did the noose and the union does nothing about it. He got arrested because it's against the law but the union did nothing to him. If there was zero tolerance policing he would've been fired, suspended or something."
Lalande also called Erikson out for surface level presentation to keep the national IBEW leadership at bay.
"Only time he makes any reference to doing something is right before Martin Luther King's celebration of his day or when there's a big national meeting," said Lalande. "He tried to make sure he's got all of his ducks in a row so he can make a positive report at least reflecting how he deals with racial problems in the union."
The AmNews contacted the Local 3's anti-discrimination division for comment, but were unsuccessful.