Mike's Mess: Activists tell would-be presidential candidate Michael Bloomberg that his stop and frisk apology is not enough
NAYABA ARINDE Amsterdam News Editor and CYRIL JOSH BARKER Amsterdam News Staff | 2/13/2020, 10:42 a.m.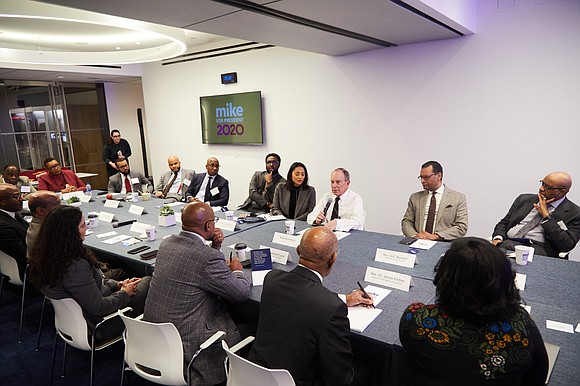 Bloomberg's campaign referred the AmNews to a statement Bloomberg released this week saying that he is not a racist.
"I inherited the police practice of stop and frisk, and as part of our effort to stop gun violence it was overused. By the time I left office, I cut it back by 95%, but I should've done it faster and sooner," he said. "I regret that and I have apologized—and I have taken responsibility for taking too long to understand the impact it had on Black and Latino communities."
There is a well-known saying across the diaspora, "He who feels it, knows it." So the Black and Brown community in the New York area know by direct experience or being adjacent to the urban tales the sheer everyday terror the NYPD enacting stop and frisk instilled in those deliberately targeted communities.
Seeing grown men being thrown up against a wall, or young teen or adult males having their pants being rummaged through by plain clothed or uniformed law enforcement still is not uncommon in inner city areas. That is stop and frisk. Despite the alleged 2014 City Council victory against the policy, and current Mayor Bill de Blasio's platitudes of being against it, recent reports state that the numbers are up by over 20%.
Everyone wants to live in a safe environment, but targeting close to 700,000 (88% of whom were innocent) men and boys as Bloomberg's policy did in 2011, means that not only does the policy not work, but it adds to the deep-seated mistrust between cops and the community.
Ford noted that victims of the pervasive stop and frisk in Bloomberg's era "didn't get the resources to deal with that trauma, so Bloomberg running for the presidency, while not transforming himself, is not a good sign for Black and Brown people. It would be different if Bloomberg stepped into the equation and said, 'I repent for my sins from yesterday, that I realize that the actions and policies that I put into place were dehumanizing to people and caused harm and I want to repair the damage.'"
Going to the churches and apologizing before he announced his run for president is not even close to a start, said Ford. "The churches don't work on the frontline to reduce violence or help people heal who were impacted by the violence of his policies."
Bloomberg's campaign also referred the AmNews to the meeting he held this week with 20 African American leaders within the faith community to discuss the campaign's faith outreach program led by the Rev. Alisha Gordon. The meeting included megachurch pastors the Rev. Dr. A.R. Bernard of Brooklyn's Christian Cultural Center and the Rev. Dr. Calvin Butts of Harlem's Abyssinian Baptist Church.
"To be clear: None of us believe that Mike Bloomberg is a racist. Actions speak louder than words, and Mike has a long record of fighting for equality, civil rights, and criminal justice reform," the leaders said in a joint statement.
Bloomberg also received endorsements from Black congressional members Reps. Stacey Plaskett of the Virgin Islands and Lucy McBath of Georgia, whose son was murdered in 2012 by a white man at a gas station over loud music. Bloomberg also landed the endorsement of Queens Congressman Gregory Meeks, who was named co-chair of the Mike for Black America National Leadership Council.