Trump executive order called 'illegal' and 'destructive'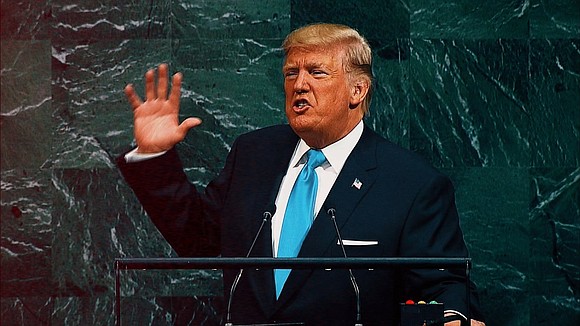 "We were all praying for a stimulus," said New York City Mayor Bill de Blasio during Wednesday's media briefing. "That looks like it's dead now."
U.S. President Donald Trump did sign an executive order designed to boost the economy and three memorandia on Saturday doing an end around on Congress to do so. But some believe that the executive order does the opposite and may also be illegal.
With the criticism of his handling of the pandemic growing louder, public disapproval of him increasing and Democratic presidential candidate Biden's polling numbers much better than his, Trump signed his executive order at his Bedminster, N.J. based private country club. The executive order extends federal unemployment benefits, but drops the amount of money Americans would receive from $600 to $400, asking states to pick up 25% of the cost. The executive order also defers payroll taxes and student loan payments and would freeze some evictions.
Trump's order also forces states to foot some of the bill, devoting $44 billion in disaster aid (aid that was already approved by Congress) to supplement jobless benefits; it leaves it up to the states to figure out how to fund them. This could also make the benefits Americans receive even smaller.
But there are more questions than answers according to Trump's political adversaries.
New York State Gov. Andrew Cuomo said Trump's actions are illegal and it would worsen New York State's current state.
"Now first, the Executive Order will be challenged in court. I don't believe, I think there's serious legal questions," said Cuomo during a media briefing this week. "It'll be challenged. No one will get anything, and the situation will get even worse than it is in the country today. But even if you got past the legal challenges, you make it impossible for a state. It would cost New York State $4 billion between now and December to pay 25% of the unemployment insurance.
"His executive order says the unemployment insurance could be $400 but the state has to pay $100 of the $400—that's $4.2 billion," continued Cuomo. "We started with a 30-billion-dollar hole and your solution is to cost me another $4 billion? Thank you. That's handing the drowning man an anchor. 'Hold onto this, maybe it'll help.' No, not an anchor, does not help a drowning man."
Republicans and Democrats have played political ping-pong with each looking to send their desired policies past the other during relief bill negotiations. There are versions of the relief bill that both parties agreed on, including some of the mandates included in Trump's executive orders. According to some, it's an illegal power grab by the president to declare his rule unilaterally over Washington, D.C.
When a reporter at Trump's news briefing asked him about dropping the federal unemployment payments to $400 a month, he said "This is the money they need, this is the money they want, this gives them a great incentive to go back to work." Trump's announcement of the executive order drew applause from those in attendance.