Talking SCHOP! Push your LIVE (verb) button
Kysha Harris Food Editor, @SCHOPgirl | 4/30/2020, midnight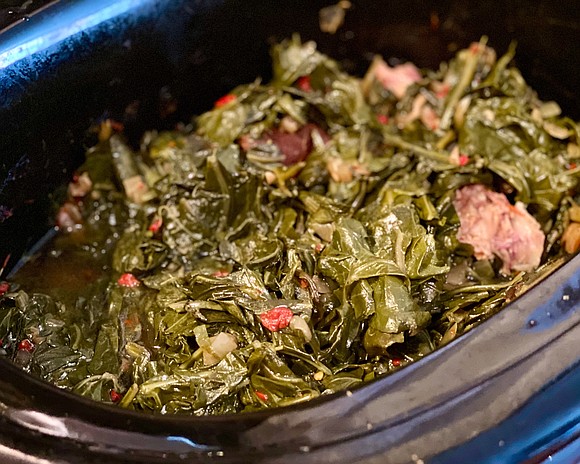 Bless all of our doctors, nurses, healthcare and essential workers who are putting their lives on the line for us. Thank you a million times over.
I have been trying to manage my anxiety over these last weeks, trying to be still, listening to my inner voice, mourning and making peace with our old normal and what the new normal will be. Breathe. Breathe again.
All of this thinking and being alone can be a challenge to our mental wellbeing. Sometimes we must make a different choice in our response to this motley crew of emotions. I have been embracing all the beauty of my favorite season, spring. D-Nice decided to push the "live" (adjective) button on Instagram to help with his funk and as a result he helped me and thousands of others live (verb). The irony of this word play is not lost on me.
How can I push my own "live" (verb) button during this time? Cook, just cook. Thanks to my partner, Nenman, we have been producing cooking videos remotely. He gives me direction on how he wants me to shoot, I upload it to a shared drive, and he edits the heck out of it. Nothing fancy, just good staple meals that store well. It has been very empowering. (check Rich Fish Stew on SCHOP!'s YouTube page)
This week Nenman and I will be posting Spicy Battle Green. Traditional southern style collard greens cooked in the crockpot with a ham hock, the trinity and more. I made them while the epic Versus producer battle between RZA, a.k.a. the Abbot of WuTang Clan and my main man with the plan, DJ Premier, a.k.a. Preemo of Gang Starr was going down on Instagram. Thus, the name.
The plan was to cook the base of…
1 smoked ham hock
1 cup (or more) each of onion, celery, bell pepper, diced
3 cloves garlic, chopped
4 cups chicken stock
1 teaspoon crushed red pepper
¼ cup vinegar
salt and pepper to taste
…for one of the four hours on HIGH, but RZA played GZA and Method Man's "Shadowboxin"' and Preemo played Biggie's "Kick in the Door," then RZA played Raekwon's "Incarcerated Scarfaces" and Preemo played Gang Starr and Nice & Smooth's "DWYCK" and then…I lost it!
Hyped like a muh', living in my best '90s hip hop vortex life, four hours had passed. Thank goodness I managed to clean five pounds of greens in my sink between the bangers these dudes were slangin' because I was beat when it was over.
Turns out the ham hock needed those 4 hours to start to break down and all the flavors to meld. I added the cleaned greens to the crockpot, set it to LOW and let them go overnight for 8 hours. The result was the best, most flavorful greens I ever made!
Lesson here, push your LIVE (verb) button every day.
Stay safe, eat well and thanks for reading!
Kysha Harris is a food writer and editor, culinary producer, consultant and owner of SCHOP!, a personalized food service in NYC for over 15 years. Follow her on Twitter and Instagram, @SCHOPgirl, on Facebook, /SCHOPnyc, and her blog, www.talkingSCHOP.wordpress.com. Questions? Comments? Requests? Feedback? Invitations! Email AmNewsFOOD at AmNewsFOOD@SCHOPnyc.com. Follow us on Instagram, Twitter and Facebook @NYAmNewsFOOD and tag us with #SoAmNewsFOOD with your food finds!