Talking SCHOP! Fish stew elixir
Kysha Harris Food Editor, @SCHOPgirl | 4/16/2020, midnight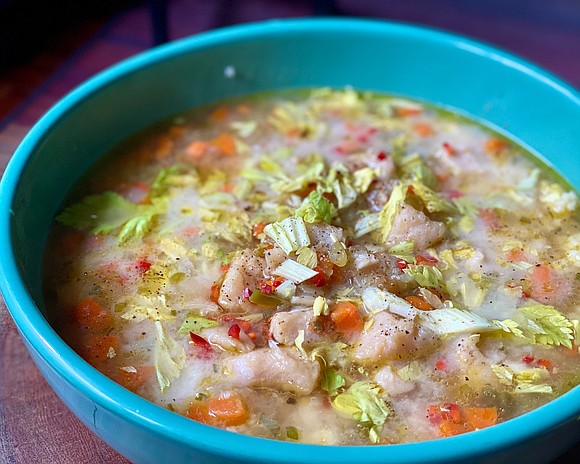 Starting this weekly column again with gratitude, deep love, and respect for the frontline healthcare professionals and essential workers. I, too, am applauding and ringing bells at 7 p.m. every night. Blessings on blessings to all of you.
My intent here always is to offer help, guidance, insight on foods, cooking and eating. I make best efforts to keep it new with the exception of a couple of staple holiday dishes. However, I often look back at my 15 years of writing this column as a means of checks and balances of my work and sometimes to uncover some gems I often return to in my kitchen. This one, published almost a decade ago (November 4, 2010), is now updated and dubbed, Corona Fish Stew.
You can also make this fish stew with a seafood or vegetable stock if necessary. However, the first time I had this dish I knew that the richness I tasted could only come from a chicken stock.
I brunoise the mirepoix (carrots, celery, onion) in this recipe for shorter cooking time and a consistent mouth feel, but feel free to cut into larger equally sized pieces if you are so inclined. You may also substitute or add shallot or leeks to the mix.

4 tablespoons extra virgin olive oil
1 large carrot, brunoise (can add more for sweetness)
2 celery stalks, brunoise, celery leaves reserved
1 medium-large yellow or white onion, brunoise
3 cloves fresh garlic, smashed and roughly chopped
1 teaspoon kosher salt (see NOTE)
½ teaspoon fresh ground black pepper
⅛ teaspoon of crushed red pepper (optional)
2 medium bay leaves
¼ cup sherry or white wine (optional)
1 pound white flaky fish like hake, tilapia, roughy cut into half-inch pieces
4 cups homemade chicken stock (NOTE: you can substitute bouillon or canned stock here, but you MUST wait to add the 1 teaspoon of salt, only as needed, towards the end of the recipe.) plus up to 2 cups of water as needed to cover
Orzo, pastina or another small variety of pasta (optional)
chopped celery leaves, thinly sliced chilies, lemon zest to garnish
Heat Dutch oven over medium flame. Add olive oil and mirepoix and sauté for 3 minutes. Add garlic, salt (if using a no sodium stock), pepper, crushed red pepper, bay leaves and sauté for another 3 minutes or until onions are just opaque. (Optional) Deglaze pan with the sherry or wine just until the liquid has evaporated.
Add fish and stir to combine. Add stock, any additional water to cover. Bring to a boil. Reduce to a simmer, cover and let cook for 15-20 minutes until the fish falls apart. Use the back of a wooden spoon to smash remaining pieces of fish against the side of the pot. Remove bay leaves, reseason to taste with salt and pepper.

Ladle into bowls over al dente orzo, pastina or rice (cooked separately in salted water), garnish with chopped celery leaves, chilis, lemon zest (a squeeze of juice if you like) and splash of extra virgin olive oil.
This is the elixir I am happy to eat often, with leftovers in the freezer. Give it a go and let me know.
Stay safe, eat well, and thanks for reading!
Kysha Harris is a food writer and editor, culinary producer, consultant and owner of SCHOP!, a personalized food service in NYC for over 15 years. Follow her on Twitter and Instagram, @SCHOPgirl, on Facebook, /SCHOPnyc, and her blog, www.talkingSCHOP.wordpress.com. Questions? Comments? Requests? Feedback? Invitations! Email AmNewsFOOD at AmNewsFOOD@SCHOPnyc.com. Follow us on Instagram, Twitter and Facebook @NYAmNewsFOOD and tag us with #SoAmNewsFOOD with your food finds!