WARM kicks off ninth domestic violence forum for community
Faith Osunde | 10/31/2019, 1:18 p.m.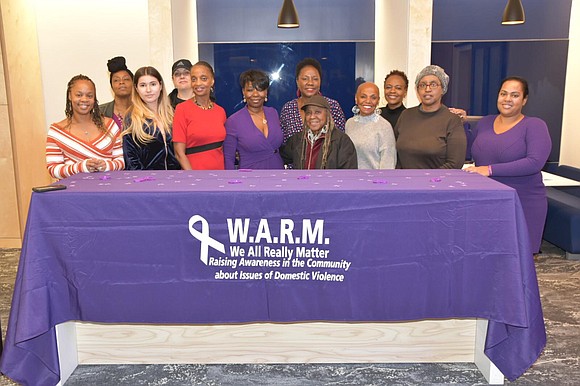 Non-profit organization fighting against domestic violence, WARM (WE ALL REALLY MATTER), hosted its ninth annual domestic violence forum at the Salem United Methodist Church with special guests in the Harlem community who have fought tirelessly in domestic violence cases offering answers to questions and giving a closer look at how they fight against this epidemic and what we can do as a community to heal.
Keynote speaker of the event was John M. Palmer, Ph.D, clinical psychologist. The panelists included the Hon. Tandra Dawson (Supreme Court Justice Integrated Domestic Violence Court), Vincent Greany (deputy inspector commanding officer, 32nd Precinct), Jeanine Launay (deputy chief, Domestic Violence Unit NY County District Attorney's Office), Anabella Escobar (exec. director, Manhattan Family Justice System), Marye Dean, Esq. (The Dean Law Firm), and Bonnie Harrison (psychotherapist, CEO, Sankofa Institute for Training and Integrative Services). The event was moderated by Cynthia Grace, Ph.D, a clinical psychologist.
The non-profit organization was birthed by Stephanie McGraw, a Harlem Native who is also a domestic violence survivor. WARM, which caters to the needs of African American women in the Harlem community to raise awareness about domestic violence and heal current cases, is also looking into healing men who are mostly the perpetrators of abuse.
The conversation at the event covered the causes and effects of domestic violence and how it spreads from the home to the streets. Mental health, toxic family relationships, absence of love, childhood trauma and even gun violence were discussed and discovered to all stem from witnessing domestic violence abuse. The key here was trauma and the cycle of domestic violence starting from childhood and unresolved wounds.
"Domestic violence is symptomatic of something else that is going on," states Harrison. "What I've noticed with men, especially with little Black boys, is that they'd get diagnosed with serious mental health diagnosis and very often the diagnosis is not true." She stresses that people should read up on trauma and learn about depression, anger (covert or non-covert), control issues and more unhealthy characteristics that lead to the cycle of domestic violence being repeated.
According to Palmer, domestic violence is a "social disaster" and the high number of cases was a shock for him when he first came to East New York in the 1980s, particularly with female children.
WARM has partnered with resources in the community that can offer help.
Dawson discussed programs that keep the orders of protections and monitor families involved in domestic violence.
Apart from the panelists informing attendees on how help can be offered through the NYPD, the justice system and psychotherapy, there were also many more resources around the room with flyers to give out and support.
"We usually ask in domestic violence situations, 'Why does she stay?' But what about, 'Why did he hit?'" says Launay. "We need to change the question that we have where we are victim shaming."
For more information, visit www.weallreallymatter.org, email weallreallymatter@gmail.com, or call 646-488-0338.