Treated like trash: report shows how commercial waste lands in poor, Black and Brown hoods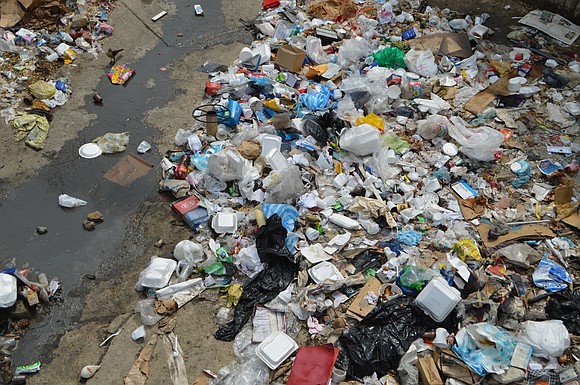 According to the city's Environmental Impact Statement for Commercial Waste Zones, the South Bronx tops all areas of New York City with more than 2,500 tons of commercial waste and 750 trips per day in 2018. North Brooklyn (more than 1,500 tons and 500 trios) and Jamaica, Queens (1,000 tons and 300 trips) came second and third.
According to the report, the publicly managed portion of the city's waste stream is processed at modern barge and rail-based transfer stations in every borough. The facilities exported 87% of our residential waste in 2018 with 13% hauled out of the city in diesel trucks and are estimated to eliminate 60 million diesel truck miles per year including 5 million miles on local roads and streets. The NYLPI states that the overall amount of garbage collected by the New York City Department of Sanitation has incrementally decreased as recycling and composting rates have increased at similar rates.
But since DSNY has phased out using private truck-based transfer stations, private haulers have brought more commercial waste to said facilities mostly in communities of color and the poor.
"Black and Brown communities where my members live were promised relief from pollution, dangerous traffic, and fumes when the Department of Sanitation built marine transfer stations and stopped relying on private transfer stations," said Sean T. Campbell, president of Teamsters Local 813. "That promise has been broken, as private carters have sent more and more commercial trash to these communities in recent years. We need a strong commercial waste zone bill to protect environmental justice communities from having to continue dealing with the impacts of everyone else's trash."
The NYLPI recommends that the city implement the waste equity law, pass the Commercial Waste Zones (CWZ) bill, ensure that the bill includes incentives for commercial haulers to use marine transfer stations for commercial collection districts nearby, require private haulers to transition to low or zero emission trucks during the first 10 years of the CWZ system and require designated haulers and customers to meet rigorous waste reduction and diversion targets.
Angela Tovar, of the non-profit organization THE POINT CDC, said it's critical that New York City move away from these practices.
"We know that a more regulated system will greatly reduce particulate matter and other ground-level pollution," continued Tovar. "In a community like Hunts Point, which is ranked one of the highest on the NYC climate vulnerability index, and a community that hosts the second-largest concentration of the waste transfer stations, this is a matter of life and death. We are calling on our leaders, the Department of Sanitation, and the mayor to take action now."