Meals clothing: classic styles with taste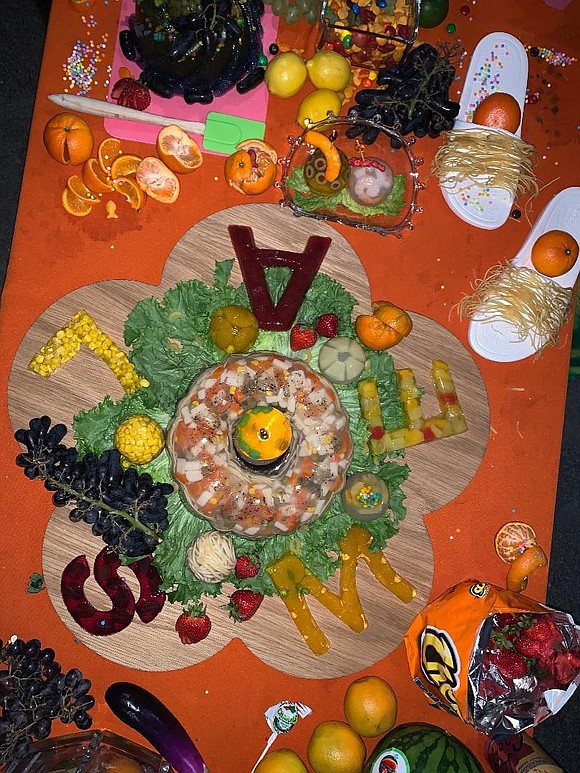 Are you hungry for fashion? For their first presentation, Ritual Project Los Angeles put on quite a delicious show at Various Small Fires Gallery in West Hollywood, CA. Styled by legendary LA stylist Shirley Kurata, food was the theme of this show. For special gifts/treats, there were delicious agar-agar pouches by ascendant food artist Nunchi and colorful mescal cocktails from El Silencio. This debut collection was further highlighted by wild make up from Holly Silius. Functional fashions in food-inspired printed fabrics looked so appetizing, and the comfortable clothes were also color-themed to coordinate with food.
The spring/summer '20 collection was made from hearty natural fibers including cotton canvas and mostly muslin. The entire line was designed, cut, sewn and dyed in Los Angeles, all within a 5-mile radius. This selection included full canvas suits that were dyed to look like watermelons, shrimp, funfetti, beets, a tablecloth, assorted citrus, aubergine, ripe bananas and more. In the future, Meals plans to show washes that resemble food stains. Is anyone having a spaghetti dinner?
Meals is a new food-focused apparel project between romantic partners, Sam and Rebma Salad. Rebma is the (formerly) anonymous creative force behind the non-binary denim brand, 69 and Sam is a writer/designer. The way 69 defined denim, Meals is molded by food. It's ready-to-wear that's ready-to-eat. 2019 prizes experiences over objects. It's an age of pop-ups, activations and selfie-centric museums. Food is an experience, too. Few pleasures outweigh a shared bowl of piping hot Vietnamese boat noodles, or cooking for someone you love (including yourself!). Meals infuses the experience of food into fashion, and vice versa through language, imagery. Through merchandising, the brand is trying to completely confuse the two.
The production of food and clothing are strikingly similar. To make pants, cotton is grown, milled, cut, sewn and dyed. To make salad, romaine is grown, chopped, washed and drizzled in olive oil. Meals bakes "food culture" into apparel. Actually, they blur the lines between the clothes we eat and the food we wear. Think about it!