Daniel Jones and the 2-5 Giants take a step back
JAIME C. HARRIS | 10/24/2019, 3:39 p.m.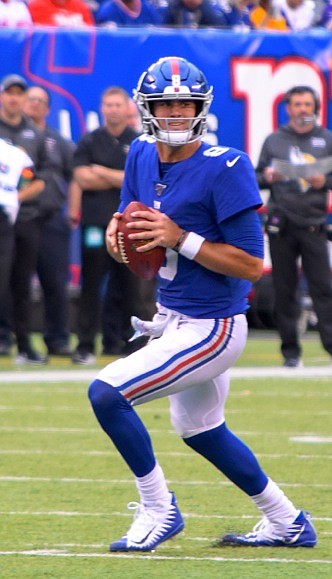 The Giants went into last Sunday's game against the Arizona Cardinals at MetLife Stadium still harboring hopes that they could remain relevant in the standings. They ended the afternoon with a 2-5 record and on a path headed for another sub-.500 season, which would be their sixth in the last seventh and second straight under current head coach Pat Shurmur.
The Giants' 27-21 loss to the Cardinals was emblematic of a team that has not demonstrated they are close to being a playoff contender. Despite the optimism for the future of quarterback Daniel Jones following his impressive debut in Week 2 versus the Tampa Bay Buccaneers, in which he spearheaded an 18-point Giants comeback in a 32-31 win, the 22-year-old has looked every bit like a young player who still needs much development after being prematurely ordained as the offense's savior by a large segment of fans and media.
Jones was 22-35 for 223 yards with a touchdown, interception and three fumbles (two recovered by Arizona) against the Cardinals, and has only six touchdown passes and seven interceptions in six games played on the season. The offensive line is culpable in Jones' regression, failing to provide adequate protection as he was sacked eight times on Sunday. Nevertheless, turnovers have plagued the rookie from Duke at the outset of his pro career.
"Certainly, ball security is primary, especially for the quarterback," said Shurmur on Monday reflecting on Jones. "I think as you study quarterbacks, they all have issues at times. But it's certainly something that we've got to get fixed."
It wasn't only Jones that had issues against the 3-3-1 Cardinals. The Giants' defense continued to perform as one of the lowest ranked units in the league (30th overall). They allowed former Fordham University star Chase Edmonds, a fourth round pick of the Cardinals in last year's NFL draft, to rush for a career high 128 yards and three touchdowns filling in for injured starter David Johnson.
Furthermore, Shurmur's dubious play calling also impacted the Giants' chances of overtaking the Cardinals. Trailing 24-21 at their own 30-yard with 3:11 remaining in the game, the Giants ran a delayed hand-off to running back Saquon Barkley on third-and-18, gaining only three yards. Instead of punting the ball, Shurmur decided to go against substantial odds and logic, opting to run a fourth-and-15 play in which Jones was subsequently sacked.
The Giants did get the ball back with 2:02 left but were unable to capitalize. Shurmur rationalized his gamble this way: "The flipside of it is if you punt the ball away, you may never see it again. That's the flipside. The reality of it was we didn't make it, so I'm here standing here with the scrutiny of not making it."
The Giants will face the 2-3-1 Detroit Lions on the road on Sunday.