Trump alarms GOP leaders
Herb Boyd | 10/10/2019, 9:38 a.m.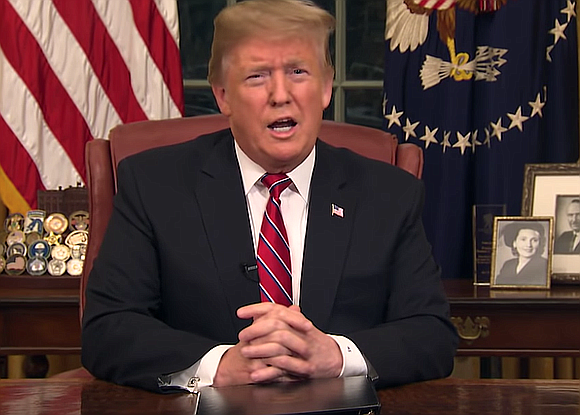 At last, it appears, Trump has done something that has drawn severe criticism from major GOP leaders.
On Monday, when Trump announced his decision to withdraw U.S. troops from northern Syria, Senate Majority Leader Mitch McConnell voiced his objection and joined several of his colleagues in the rebuke.
McConnell, who has for the most part been a defender of Trump's policies, said the withdrawal of U.S. forces from Syria would be "precipitous" and would only benefit Russia, Iran and the Assad regime. "I urge the president to exercise American leadership to keep together our multinational coalition to defeat ISIS and prevent significant conflict between our NATO ally Turkey and our local Syrian counterterrorism partners." The tactic, he added, would damage Turkey's "ties to the United States" and cause greater isolation for Turkey on the world stage.
Trump tweeted his response to the outcry, stating his defense of the withdrawal strategy that would hamper the Kurds in their fight against ISIS. "The Kurds fought with us, but were paid massive amounts of money and equipment to do so," he tweeted. "They have been fighting Turkey for decades. I held off this fight for… almost 3 years, but it is time for us to get out of these ridiculous Endless Wars, many of them tribal, and bring our soldiers home."
Then, in typical Trump bravado, he said, "As I have stated strongly before, and just to reiterate, if Turkey does anything that I, in my great and unmatched wisdom, consider to be off limits, I will totally destroy and obliterate the Economy of Turkey (I've done before!)."
Sen. Lindsey Graham (R-S.C.), an unwavering Trump supporter, was equally outraged at the strategy in Syria, deeming it all a potential "disaster" and shortsighted. "I don't know all the details regarding President Trump's decision in northern Syria. In process of setting up phone call with Secretary Pompeo. If press reports are accurate this is a disaster in the making," Graham tweeted.
This latest contentious moment arrives as the subpoenas continue from Democrats in the House, with even the Pentagon targeted. And the Trump team should be further troubled by a decision from a judge that has ruled his state tax returns cannot be shielded.