Cool, casually chic cuts for SS '20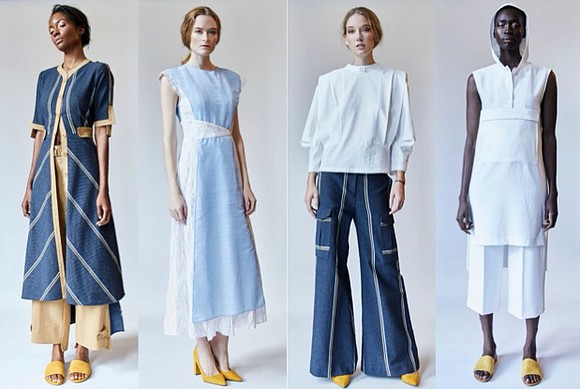 Designer Hanh Merriman's namesake spring/summer '20 collection was inspired by the desert mountains in Utah. Imagine the shapes of deconstructed rock formations and the area's warm color tonality. The silhouettes were comfortable yet chic. At her NYFW show in Soho, her lines were strong. Shapes were wide and loose-fitting with tailored details. There were a lot of crisp white looks, classic denim blues and gold color palettes. The collection revealed the boldness, wildness and elegance of a mountain desert.
For Merriman, fashion has always been a constant throughout her life. When Merriman was just 12 years old and living in rural Vietnam, she asked her mother for some fabric because she wanted to create her own clothes. With no knowledge of pattern making or sewing, she was determined to create something. Armed with an innate sense of style, Merriman ignited a career in fashion. She's a former style blogger and the founder of Life in Travel, where she chronicled her global adventures and designer obsessions. A frequent street style subject, she was often photographed by the late, great fashion photographer Bill Cunningham for his popular street style column, "On the Street." She was even featured in Vanity Fair's international best-dressed list.
Merriman sees fashion as a totally transformative and empowering medium. She expresses herself artistically through the clothes she wears. She is a woman about ideas and, most importantly, a woman who believes in the magic of fashion.
Her fashion and lifestyle brand started in the spring of 2018. The company is committed to supporting luxury manufacturing in USA. "The perfect pairing of pop and restraint" is how Merriman defines her brand's aesthetic. The women's ready-to-wear collection is composed of bold and edgy designs that remain timeless. Fine fabrics and the perfect fit are important.
As she paraded down the streets of New York and Paris during fashion weeks, Merriman's alluring style turned many lenses. Therefore, it only seemed fitting she shared her passion for design with the world. In every one of her collections, Merriman manages to distill her personal style and sensibility into designs that breathe accessibility and ease. She believes, "There's something for every woman." She uses her brand as a platform to raise awareness on giving back to those in need through soulful, humanitarian endeavors.





"Fashion is all about having fun, playing with your style, making an adventure of it, expressing your mood and who you are. You should enjoy it. Fashion is a living art form," said Merriman.