Princeton continues winning tradition under new coach
LOIS ELFMAN | 11/27/2019, 12:16 p.m.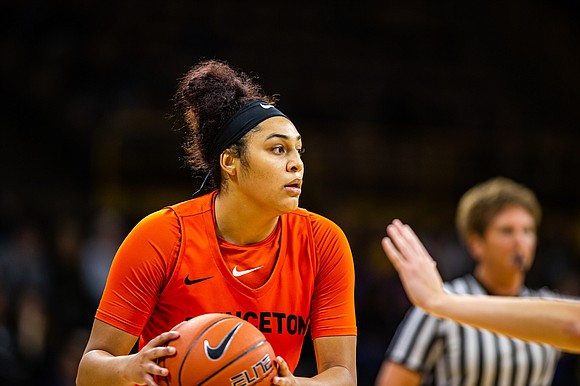 Over the past decade Princeton University women's basketball has been the dominant team in the Ivy League. The Tigers have seen post-season play for 10 consecutive years, including eight trips to the NCAA Tournament and two times to the post-season WNIT.
This season, that tradition is continuing under new head coach Carla Berube. A graduate of the renowned University of Connecticut, Berube spent the past 17 seasons as the head coach at Tufts University, a Division III school. During that time Tufts won 80 percent of its games, reached the NCAA Division III Final Four four times and nine Sweet 16s.
Princeton has started this season 5–1, and Berube's transition to Division I is going well. "There has been so much for me to learn about this great university—learning about my team, getting to know them on and off the court, getting to know their strengths and parts of their game they need to get better at," said Berube. "It's been a busy last couple of months."
Berube is encouraged by the team's work ethic and team unity. The Ivy League isn't unfamiliar to Berube. During her years in Boston, she was familiar with Harvard University's women's basketball program. Also, Tufts is an academically demanding school, so she is accustomed to driven student-athletes with high academic goals.
"I'm excited to coach against the Ivy League. I know how competitive they will be and how important every one of those games will be," said Berube. "These are really talented basketball players and really intellectual human beings. It's fun getting to know them."
Two of the standouts so far this season have been sophomore guards Grace Stone and Neenah Young. Berube said Stone is a versatile player and great defender. Young is an athletic player who lit up the scoreboard in early games and is also good on the defensive end.
During Berube's time as a student-athlete, UConn won its first NCAA Title. She knows what it takes to build a winning program. "You can't just want it, you have to work at it day in and day out," Berube said. "I care about really strong and open communication with the team—on the court, off the court—so you'll see that hammered home every day in practice. … You need to come ready to work every day and be really focused. It's a lot of work, but we also have a lot of fun. You need that piece as well."