Congressional Black Caucus Members visit U.S.-Mexico Border: "Mistreatment of Black immigrants is another 'Stain on America'"
11/24/2019, 9:01 a.m.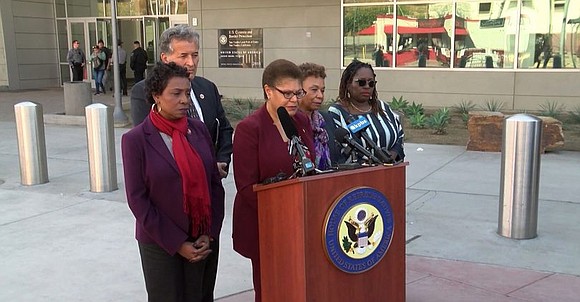 He was taken into custody by ICE on September 19, 2019.
Bass said his death remains a mystery and is cause for concern.
CBC members also pointed to a recent Pew Research Center study that revealed that there are more than 4.2 million Black immigrants in the United States, with Africa, the Caribbean, and Latin America making positive contributions to the United States.
However, those immigrants are at a higher risk for arrest, detention, and abuse because of racial profiling and racial bias, according to the Pew report.
"We need to shed some light on what is taking place here as it relates to Black immigrants from the Caribbean and Africa," stated Lee, the chair and majority leader of the House Task Force on Poverty, Income Inequality, and Opportunity.
"They came here fleeing from violence in their own countries, getting to a place where they thought they could be treated humanely," Lee stated. "It's been the opposite. They are dehumanized, treated in a racist fashion, and then stuck at a border town.
"I hope the Black community understands that this is another example of Trump's racist policies to make America White again. We see that every step of the way in this process.
"Black America has to rise up. This has got to stop."
Lee added that she's putting out a call to Black professionals, be it psychiatrists, social workers, and others that their help is needed to help people of color at the border.
"They desperately need our help. Certainly, some Black professionals can provide services that are needed to help them," Lee stated.
"A lot of them will get very sick, a lot are traumatized and already unhealthy. They will need to be able to survive – they're barely surviving now. I'm issuing the call. This is yet another stain on America."
Clarke, the chair of the House Task Force on Immigration for the CBC, said it's tough to fathom what Black immigrants face at the border.
"These people are resilient, they have gone through quite a few things in their homeland that drove them to try and get to the land of the free and the home of the brave," Clarke stated.
"We have to speak for them. They don't have a voice. These are people who will be persecuted if they return to their homeland where there is genocide, other hardships, and violence," she stated.
"We have to be their voices. The Trump policies are totally illegal."
Gyamfi, of the Black Alliance for Just Immigration, said she was moved by what she witnessed.
"You can look in their eyes. They had a sense that finally, they're looking at people who look like us, and who actually care," Gyamfi stated.
"They heard the voices of our leadership. But they see the anti-Blackness throughout the entire system. This is a humanitarian crisis where human rights violations are happening daily."