Overpolicing in the MTA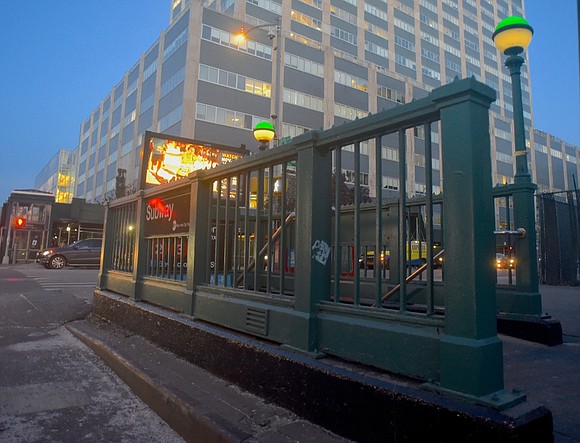 Crackdowns on turnstile jumping, arrests of food vendors and officers attacking civilians. While Black citizens are often on heightened alert about interactions with the police doing normal activity, public transportation is becoming the NYPD's latest target on the poor community.
One of the latest incidents garnering criticism involves a food vendor selling churros at the Broadway Junction station in Brooklyn. A video posted to social media shows four officers surrounding a Latino woman who calls herself Elsa and handcuffing her. The woman shooting the video asks why the woman is being arrested as Elsa cries.
"I feel horrible, very nervous, stressed, absolutely devastated," Elsa said through an interpreter during a press conference on Monday, Nov. 11.
Reports indicate Elsa had several summonses and was the subject of multiple complaints, according to police.
Another woman selling churros was also arrested in Brooklyn this week. This time at the Myrtle-Wyckoff Avenue station where the woman was handcuffed and issued a summons. Police say the woman reportedly had two outstanding warrants for not appearing in court.
MTA policy dictates that it is illegal to sell or distribute food in the transit system. Mayor Bill de Blasio defended the NYPD saying the officers were enforcing the law.
"I am a believer, you set some rules and you stick by them, but how you go about enforcing­—the officers as far as I can see did things properly but I'd like to see additional work to never have to put the officer in that situation," de Blasio said in a televised interview.
Public Advocate Jumaane Williams joined the chorus of supporters who say policing in public transit it getting out of hand. He appeared at a recent rally in support of Elsa.
There's so many policies that are oppressive to certain communities−̶but so often, we don't do the hard work of untangling & addressing them," Williams said on social media. "We send police. We criminalize."
However, the arrests of the food vendors speaks to a larger problem that appears to be targeting people of color in low income neighborhoods. It was just a few weeks ago two incidents involving Black citizens in the public transit system were the subjects of police abuse.
The first involving 15-year-old Benjamin Marshall, who was punched by an officer while police were trying to control a fight that broke out at the Jay Street-MetroTech subway station. The other involving 19-year-old Adrian Napier who was pummeled by several officers who drew their guns after he allegedly jumped a turnstile. Both incidents were caught on video.
A stronger police presence in the subway is part of Gov. Andrew Cuomo's addition of 500 uniformed officers to the subway and bus system next year. The move was made to crackdown on money being lost on fare evasion.
The AmNews reached out to Cuomo and a spokesperson responded with a transcript from a recent televised interview about the MTA.
"We're a city and nation of laws and they have to be enforced and people need to be safe on the subways," Cuomo said. "We've invested a lot of money. The performance is getting better through the subway action plan but people have to feel safe. "