Talking SCHOP! WarmUp! to EatUp! HeatsUp!
KYSHA HARRIS AmNewsFOOD Editor, @SCHOPgirl | 5/9/2019, 4:04 p.m.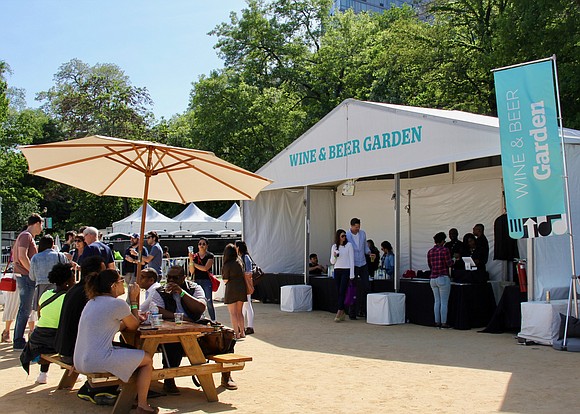 We are just four days away from Harlem EatUp! 2019! Another year of hard work, collaboration and excitement will come to its culmination once again. I am grateful to be a part of this annual celebration.
In preparation of the festival, and as part of the WarmUp! to EatUp! pre-festival programing, I was asked to moderate a post screening of the documentary "Chef Flynn" at the Maysles Documentary Center on Lenox Avenue on Sunday night. The rain could not keep me away from meeting this talented young chef, Flynn McGarry, who began his career at the age of 10 with high-end pop-up dinners in his California home inspired by master chefs like Thomas Keller (The French Laundry) and Daniel Humm (Eleven Madison Park).
The director of the film, Cameron Yates and the producer, Laura Coxson, joined Chef McGarry. Together we talked about fostering creativity, passion and the joy and therapy of finding order in chaos.
Currently executive chef of Gem (116 Forsyth Street), Flynn is living in NYC and still in the pursuit of flavor. I am looking forward to trying Gem's 15-course meal soon. Thank you for the memorable experience.
The Dine In dinner series is always the first event of Harlem EatUp! While some of these dinners are sold out, there are others with a spot waiting just for you. Here are my recommendations lifted from the harlemeatup.com website (copy, courtesy of yours truly).
SOLOMON & KUFF RUM HALL
Date: Tuesday, May 14
Location:  2331 12th Avenue (133rd Street & 12th Avenue)
Ticket Price: $115 (price includes a copy of Chef Onwuachi's new book, "Notes From a Young Black Chef")
Time: 7 p.m.


Solomon & Kuff Rum Hall owner and restaurateur, Karl Williams, welcomes creator and executive chef of D.C.'s Kith/Kin, former Top Chef contestant and newly minted James Beard Foundation Award winner for Rising Star Chef of the Year, Kwame Onwuachi. Together with executive chef Mike Maitrel-Burgard, they will take you on an exploration of African-Caribbean-American food from Nigeria to Jamaica, Louisiana to New York City. With a rum history told through Karl's craft cocktails, it is sure to be a powerful night. Don't miss it!
Beer, Wine & Spirits: E. & J. Gallo Winery, Diplomatico Rum and Heineken
MELBA'S
Date: Wednesday, May 15
Location: 300 West 114th Street
Ticket Price: $100
Time: 7 p.m.
This Dine In will be the epitome of the word 'historic' when, "born, bred and buttered in Harlem," Melba Wilson welcomes executive chef Jerome Grant of Sweet Home Café in the National Museum of African-American History and Culture to her kitchen. What they share is a love and deep appreciation for their origins and, of course, for the food of the African-American diaspora. If you have yet to see the museum, let this dinner be your historic appetizer. This joint is sure to be jumpin' (historically, of course) as these two powerhouses celebrate the night with you.
Beer, Wine & Spirits: E. & J. Gallo Winery, Corona Premier, and HH Bespoke Spirits
Finally, the Annual Luminary dinner honoring Lana Turner, The Honorable David N. Dinkins and posthumously Madam C.J. Walker at Ginny's.