WBAI Live! 'From the Streets with Bob Law'
Amadi Ajamu | 3/14/2019, 9:25 a.m.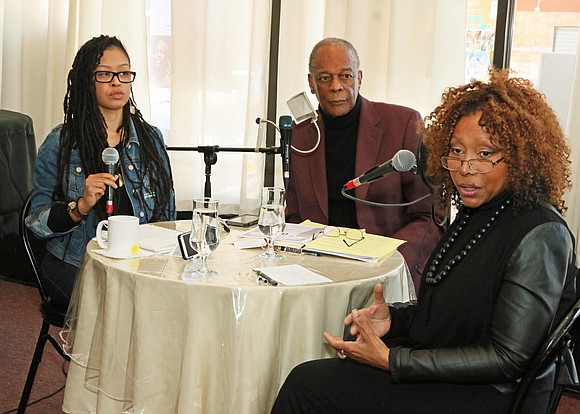 WBAI (99.5FM), Pacifica's New York affiliate of their nationwide network of independent community radio stations, has launched their first live programming effort with the phenomenal national radio personality, Bob Law. On Saturday, March 9, "From the Streets with Bob Law" aired for the first time live at Sistas' Place, a landmark coffeehouse on Nostrand Avenue in Bedford Stuyvesant, Brooklyn which features renown African-American jazz cultural artists and grassroots national and international politics facing Black people today.
Bob Law was joined by co-host/guest Ann Trip of WBLS "News and Views" and executive producer, researcher and "voice" of the nationally-syndicated Black History Minute (United Stations Radio Network), where she profiles the historic, cultural, political and social milestones of African-Americans. Their special guest, Jade Arrindell, M. Ed, is the founder of "Victory of the People Movement" established in 2017 as an extension of her commitment to undoing racism work within the U.S. educational system.
The theme of the broadcast was economic sanctions as a weapon for grassroots people against corporations. Law also focused on the emerging generation of Black youth and their participation in politics in our community. The live broadcast opened the discussion to a large, eager community audience that filled Sistas' Place to voice their own views. The glaring issues facing our community were gentrification, affordable housing, systemic mortgage foreclosures, education, and mediocre political leadership who are not fighting for the quality of our lives.
He opened with a question to Ann Trip: "We are seeing the results of the blue wave in the midterm elections where younger people are making a dent and making things happen in politics nationally and right here in New York City. But I wanted to get your ideas about the emergence of the younger generation, Black people under 40, and how you measure their significance."
Trip said, "In some ways they're being over measured, people outside our community and don't know our community, don't know what is going on. But it's wonderful to see the emergence of this action and I saw a lot of it the first time Obama was running for election. They wanted to vote and be counted. There are some really bright minds out there that I'm so happy about."
"The problem is," Trip continued, "though they speak about what I like to hear and want to do the right thing, some of them are a little disrespectful of the older people. A lot of the people who vote for them are older people who are registered to vote. We haven't really gotten a lot of young people in our community to register to vote. That, I wish, would change. I would also like the young people who are running to know that their votes are coming mainly from older people. They say 'I like that young brother, I'm going to vote for him.' I think it needs to be a collective obviously, and Jade would have an answer to that. In think more young people need to know that their vote matters. If we hadn't voted for Obama, he would not have been president."