Nick's Song: Heart and Hard Truths
by David Williams | 3/6/2019, 12:41 a.m.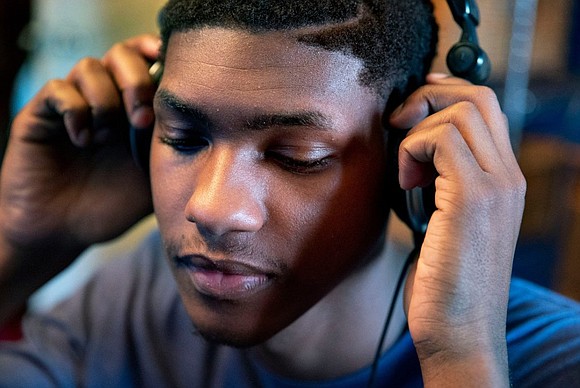 Nick battled cancer and lived to rap about it — survivor songs full of rhyme and raw emotion, a soundtrack to a teenager's two-and-a-half year journey through darkness to light.
Performing as St. Nick, and on his recently released album, he raps about facemasks and sanitizers, fear and recovery.
He raps about the beanie that once covered his bald head but worn now only "when it's cold / not when I'm hurting."
And he raps about the place that saved his life: St. Jude Children's Research Hospital.
"First it was fatigue," he said, "which I tried to tough through, because I thought it was just because some of the snacks I was eating."
Then dark circles began forming around his eyes. Then came knots in his stomach, knots so hard that friends thought he'd been working out on the sly. "No," he said. "I don't know what it is. I take the compliment, but I don't know where these abs came from."
It was the summer of 2014 and Nick was beginning to look like an elite basketball prospect. Already 6-foot-6 entering high school, he had game and good genes — his father, Paris, was one of nation's most-heralded recruits of the mid-1990s.
It was shaping up as "a breakout summer for Nicholas," Paris said. "Because up to that point, I was the only one who had coached him. He was getting better and better. That summer is when I decided to allow him to play with other competitive teams, and Nicholas thrived. He put up really good numbers. He put himself in position to be recruited."
But as the summer wore on, as Nick traveled the country for tournaments and an elite camp affiliated with NBA star Chris Paul, something was happening.
He couldn't eat. His hips ached. He lagged behind teammates in drills and his game performances were wildly inconsistent.
He played on, because that's what athletes are taught. That, and he was a quiet kid, not given to complaint.
"But you could tell when you looked at me," he said, "that I wasn't the same Nick that I was at the beginning of the summer."
His parents grasped for explanations. When Nick's coach called to say he was barely eating on the road, Tangela, Nick's mom, thought maybe he just missed her cooking. But it was no better once he was back home.
"I was fixing his favorite dishes and he would usually eat seconds, but (now) he was eating just enough," she said. "He would just say he was full, and didn't know how to put his symptoms into words."
Paris, a 6-foot-8 former player at the University of Memphis and Arkansas State, sought a basketball explanation. After all, this was the summer the father set the son free, to make his own name among the young phenoms. Heady stuff for a teenager who had yet to play a tick of high school ball.
"When we started to notice the change was after he came back from a trip with a team that he was playing with, out of Arkansas," Paris said. "He came home to play for me in some local events, and we noticed that the energy level wasn't there. He wasn't hustling the way that he normally did. So of course we thought it was him kind of getting the big head."