At 95, tailor Leroy Archer sews on
RENEE MINUS WHITE | 1/17/2019, 2:56 p.m.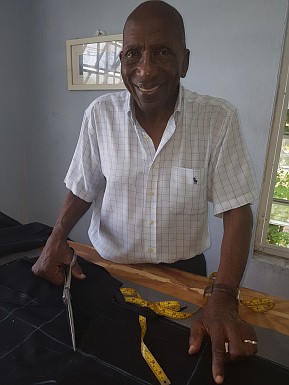 When you reach a certain age, some might say you are "over the hill." But for many folks, life only grows as you age. Leroy Archer, a Bahamian tailor, continues to work, even though he is 95 years of old. He is living proof that age is just a number. These days he is in the shop six days a week, focusing on alterations and his regular walk-in customers. He designs and makes garments for special occasions, friends and family, all while still using his 70-year-old Singer sewing machine.
What's his secret? Born and raised in Nassau, Bahamas, he swims in the sea every morning, eats healthy, has the love of family and gets proper sleep. Working in an occupation that you love is also very important.
"When I was growing up, everyone attended a trade school," said Archer. "My father wanted me to study tailoring. My brother Oscar Archer, also a tailor, influenced my career, too. … In those days, you did as you were told. You must do what you love."
For Archer, it is all about running his shop, located on Delancey Street in Nassau. As we talked there, customers stopped in with their garments. One young man came in with a pair of trousers that needed repairing on the cuffs. Archer gently explained the alteration process of the job, cost and the best time to pick up his pants.
One of Archer's young cousins from Virginia stopped in to say hello while visiting family on the island. Excited to see him, Archer stood and greeted the young man and his mother. Archer, often called "Uncle Lee," created his cousin's confirmation suit.
"It was impeccably tailored," remembered the cousin's mother.
The former speaker of the House of the Assembly of the Bahamas, Rome Italia Johnson, stopped in to say hello to Archer as well that day.
Archer is strong and of sound mind. He has a beautiful smile and uplifting spirit. As a well-known tailor, he mentored young boys at the Bahamas Industrial Center. Throughout his successful career, this amazing tailor was also awarded contracts to create uniforms for Bahamas Air and Port Authority. During summer 2017, his portrait was one of 52 subjects featured at the Bahamas Art Gallery. A legend, he is one of two working tailors in the Bahamas.
Does he still have many requests to make suits? Because of the internet, many folks purchase their suits and clothing from online retailers. However, Archer still gets plenty of daily traffic in his shop.
Today you will find Archer in his shop. Stop in and look for his "Tailor" sign, or call 242-323-4276. You'll find him there, working with chalk, pins, needles and threads.