Sex trafficking victim Cyntoia Brown granted clemency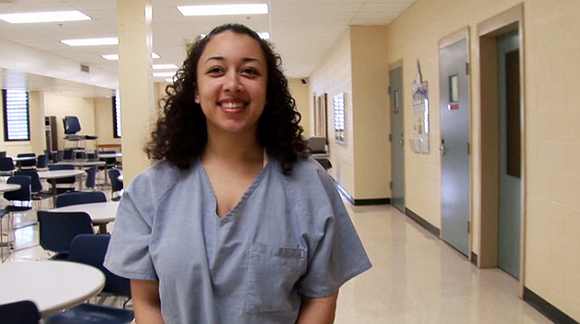 With his term set to expire Jan. 19, Tennessee Gov. Bill Haslam announced Monday that he granted executive clemency to Cyntoia Denise Brown, 30, an African-American woman convicted of killing an abusive man, and commuted her life-sentence. She's scheduled to be paroled Aug. 7, 2019, for the next 10 years.
"This decision comes after careful consideration of what is a tragic and complex case," Haslam said. "Cyntoia Brown committed, by her own admission, a horrific crime at the age of 16. Yet, imposing a life-sentence on a juvenile that would require her to serve at least 51 years before even being eligible for parole consideration is too harsh, especially in light of the extraordinary steps Ms. Brown has taken to rebuild her life. Transformation should be accompanied by hope. So, I am commuting Ms. Brown's sentence, subject to certain conditions."
In August 2004, real-estate broker Johnny Mitchell Allen, 43, took a then 16-years-young Brown back to his Nashville home, after agreeing to $150 for sex, court records revealed. Brown claimed self-defense while admitting shooting Allen in the back of his head when they were in bed, but only after she thought he was reaching for a gun first. She took money and guns and fled in his truck.
Brown claims she took the money for fear of returning to her abusive 24-year-old boyfriend/pimp nicknamed "Cut Throat" empty-handed. Prosecutors maintained the killing was motivated by robbery. Tried as an adult, she was convicted by a Davidson County jury in 2006 of first-degree murder and aggravated robbery and sentenced to life in prison, and she wouldn't be eligible for parole until 2055.
Court records revealed that her alcoholic mother had put her up for adoption as a child. She ran away from her adoptive home months before the killing. She was then living with "Cut Throat," who she said sexually assaulted her and forced her into prostitution. She was also diagnosed with fetal alcohol syndrome in 2012.
While incarcerated, Brown acquired her GED and an associate degree from Lipscomb University in 2015 with a 4.0 GPA, and she is schedule to complete her bachelor's degree this May. She's planning on collaborating with Tennessee's Juvenile Justice System, counseling at-risk youths. Supporters say she's been a model inmate throughout her incarceration.
The 2011 PBS documentary, "Me Facing Life: Cyntoia's Story," raised awareness of her case, drawing support from celebrities such as Rihanna, Gabrielle Union, Kim Kardashian-West, Ashley Judd, using the hashtag #FreeCyntoiaBrown.
In 2012's Miller v. Alabama ruling, the Supreme Court barred mandatory life sentences without parole for juveniles.
At Monday's news conference, Brown's attorneys read a statement thanking Haslam "for your act of mercy in giving me a second chance."
The statement continued, "I will do everything I can to justify your faith in me."
Brown also thanked Department of Corrections officials who helped her get an education and "saw something in me worth salvaging" and "my family for being a backbone these past 14 years."
The statement concluded, "With God's help, I'm committed to living the rest of my life helping others, especially young people. My hope is to help other young girls avoid ending up where I have been. Thank you."
Bishop Joseph W. Walker III of Nashville's Mount Zion Baptist Church commented, "We're here today because a moral man made a moral decision, a courageous decision. We're here today because this was not just an act of one intervention by myself, but the cumulative effort of many around the country, around the world, who prayed, who advocated, who tweeted, who talked about it. She's paid her debt to society."
Brown added, "I am thankful for all the support, prayers and encouragement I have received. We truly serve a God of second chances and new beginnings."
During autumn 2017, Brown's story spread widely.
"This case should be seen as a national awakening to change laws that allow children to be placed in adult prisons," contended Brown's attorney, J. Houston Gordon. "Her story should be a catalyst for a lot of others, thousands of other juveniles."