Raven Wilkinson, ballet pioneer and mentor to Misty Copeland, passes at 83
Zita Allen | 1/10/2019, 4:39 p.m.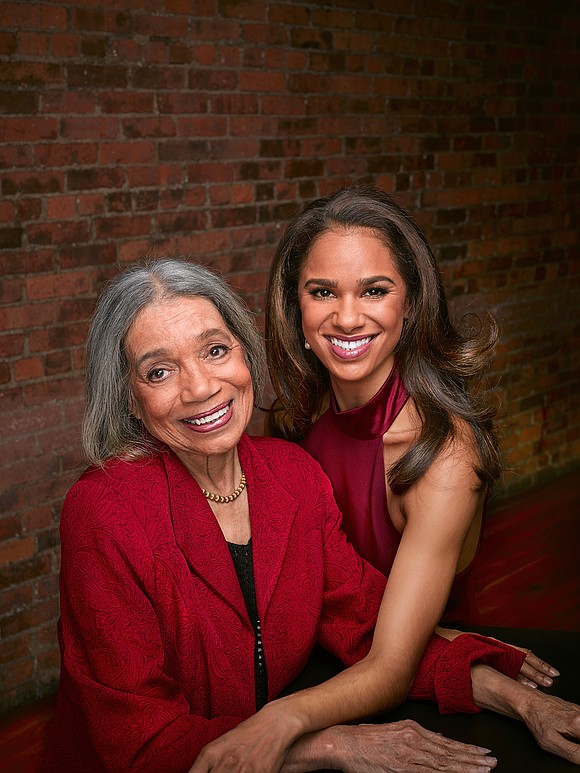 When they started weeding dancers out during the audition, Wilkinson's name was called. She said, "I thought they'd tell me, 'You're a lovely dancer, but we really just can't take you into the Ballet Russe.' I walked into the room and I noticed that people had kind of anxious, but happy anticipatory smiles on their faces. Madame Swoboda was in the corner with Madame Alexandra Danilova and Leon Danileon. Mr. Franklin was standing there beside Mr. Denham. He [Denham] wasn't a very heavy man, but he had a very portly front and he said, 'How would you like to be in the Ballet Russe de Monte Carlo?' And you know what? I smiled and I don't think I said a word. I was so shocked. I just stood there with my towel around my neck. And they were, they seemed so happy. They were smiling. They seemed so happy to say to me, 'We're taking you into the company.'"
Thus began a historic chapter of her life, a chapter she said her parents, Dr. Frost B. and Anne J. Wilkinson, were asked not to share with the media because it would jeopardize the Ballet Russe's bookings, particularly, in the segregated South. Wilkinson did tell Denham that if asked, she would not deny she was Black.
Eventually, after a couple of years, word got out, sparking several racist encounters that included members of the KKK disrupting a rehearsal demanding, "Where's the nigger?" Years later, I asked National Ballet de Cuba's Alicia Alonso about the incident. She recalled the men standing in front of all the dancers, including her, asking if she was the one they were looking for. Met with silence, they gave up and left. On another occasion, a hotel manager enlisted a Black staffer to point out the company's Black ballerina as they checked into his hotel. When the woman pointed to Raven, the manager confronted her and when she replied "Yes," she was forced to move to a "colored establishment."
At first the incidents didn't dampen her love of dance. Wilkinson enjoyed performing the company's remarkably varied repertoire, including a featured role in "Raymonda," Michel Fokine's "Les Sylphides," the "Waltz of the Flowers" in "The Nutcracker" and more.
Eventually racism took its toll and in 1961 Wilkinson left the company. She recalled when it became clear her "time at the Ballet Russe had come to a close," someone on staff suggested she start an African dance company. Wilkinson sighed and said, "I was a trained ballet dancer."
After auditioning for other companies, including ABT, Pennsylvania Ballet and others, "It got tiring," Wilkinson said.
She added, "I stopped. I interpreted this time of great disappointment with dance and ballet as a sign that it was time created to go into something else."
She joined a convent in the Midwest. But before long, ballet lured her back, thanks to another African-American ballet dancer—Sylvester Campbell—who found opportunity outside the country denied him here at home. Wilkinson joined the Dutch National Ballet and remained there for seven years before returning to New York, where she joined the New York City Opera's ballet ensemble. Later she became a member of the cast of extras and stayed with the company until it folded in 2011.
Dance was Wilkinson's life. She also loved encouraging young Black ballerinas to pursue their passion. Their success brought her joy. Of Misty Copeland she said, "There's something about Misty. When she dances, it's like a flower opening its petals to
the audience."
She praised Michaela DePrince, the young Sierra Leone-born ballerina whose star is rising on the international stage. Recalling a conversation with DePrince about skin color, Wilkinson lamented, "Oh my God, how many years have I heard that? Not just to me, but to just dancers. Your body this. Your body that. It is so wearing."
Once, speaking to DePrince, as if talking to all Brown ballerinas, Wilkinson said, "I just want you to dance what you want to dance." Her life was a living embodiment of that wish.
Voicing what many felt at her passing, Carmen de Lavallade said, "Raven was a bright sun on a rainy day, humor under stress and had a laugh that could heal. It's been my luck to meet her and bask in her light."
Wilkinson is survived by her brother, Frost Bernie Wilkinson Jr.