Never too late for luck
KYSHA HARRIS AmNewsFOOD Editor, @SCHOPgirl | 1/10/2019, 4:04 p.m.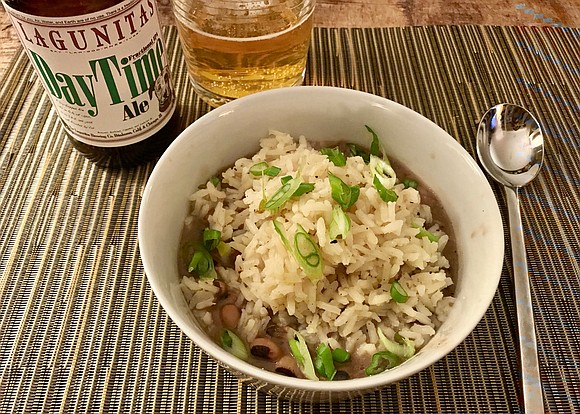 Yes, I had my "luck in the new year" black-eyed peas Jan. 2. And? I had them, they were delicious and I feel lucky!
This year, I could not find any smoked meat or poultry in my local store, so vegetarian-ish it would be. Also, with no onion or fresh or dried thyme, I used a leek and a couple of broadleaf thyme leaves from my plant. (See changes below.)
3 Tablespoons olive oil
1 Leek, chopped
1 Teaspoon sea salt
1/2 Teaspoon freshly cracked black pepper
crushed red pepper, to taste (optional)
1 Tablespoon chopped garlic
1 Pound dried black-eyed peas, picked over
1 Quart low sodium chicken stock (the "ish" part of the recipe), plus more if needed
3 Broadleaf thyme leaves, chopped
Bay leaf
3 Cups cooked rice
3 Tablespoons finely chopped scallion
Heat oil in a large soup pot over medium-high heat. Add onion, salt and pepper and sauté for 4 minutes. Add garlic and crushed red pepper, sauté for another minute. Add black-eyed peas, stock, bay leaf and thyme. Bring to a boil; reduce the heat to a simmer. Cover and cook for 40 minutes, or until the peas are creamy and tender, stir occasionally. If the liquid evaporates, add more water or stock.
Remove bay leaves. Taste and readjust seasonings. Serve over rice garnished with scallions.
Now you are fortified. Go forth!