Iconic activist Angela Davis snubbed in her hometown
HERB BOYD | 1/10/2019, 11:05 a.m.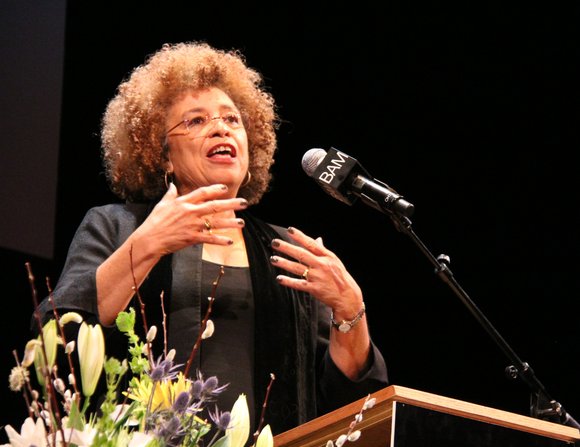 Back in September of last year, noted scholar and activist Angela Davis was to receive the prestigious Fred Shuttlesworth Human Rights award at the Birmingham Civil Rights Institute's annual gala in February. Jan. 4, the BCRI caved in to pressure they say came from within and without to rescind its invitation, which has spurred an outrage from a number of community activists.
"I am deeply disturbed by this action, and particularly for a woman who is an icon in our struggle for liberation and a native of Birmingham where she was born," said noted poet and publisher Dr. Haki Madhubuti. "There's no way this can go down without a full understanding of why she is being disinvited."
A statement from the board does not specify why Davis is no longer being honored at the gala or why the event is being canceled.
"Upon closer examination of Ms. Davis' statements and public record, we concluded that she unfortunately does not meet all of the criteria on which the award is based," read the board's statement. "We regret that this change is necessary, and apologize to our supporters, the community and Ms. Davis for the confusion we have caused."
Even Birmingham Mayor Randall Woodfin was upset by the decision. "As I consider the controversy over the Birmingham Civil Rights Institute's decision to honor Dr. Angela Davis with the Fred L. Shuttlesworth Human Rights Award and its subsequent decision to rescind that honor after protests from our local Jewish community and some of its allies, my overriding feeling is one of dismay," said Woodfin.
That decision, presuming the unnamed outside influence is coming from members of the Jewish community, might stem from Davis' longstanding support of Palestine self-determination and her denunciation of Israel's suppression of Palestinian rights. On more than one occasion the professor emerita at the University of California, Santa Clara, has been unflinching in promoting the Boycott, Divestment and Sanctions movement against Israel.
"The Boycott, Divestment and Sanctions campaign that seeks to expose and isolate Israeli apartheid has garnered support all over the world," Davis said in statement, further comparing the Israeli government to the former apartheid regime of South Africa.
Monday, Davis, 74, said she will return to the place of her birth despite the snub. An alternative event is in the planning. She said punishing her for pressuring the state of Israel to stop mistreating Palestinians is an attack "against the spirit of indivisibility of justice."
Still, some opposed to Davis' selection might feel that her association with the Black Panther Party and her membership in the Communist Party are just too much for a mainstream institution so indebted to donors with no sympathies or understanding of radical politics. Her situation comes at a time when anti-Semitism is sweeping the nation, and such notables as television commentator Marc Lamont Hill and author Alice Walker are enduring their own imbroglios.
The controversy over the BDS movement has extended even into the congressional realm, with many members, including Sen. Cory Booker of New Jersey, aiding a bill to make it illegal to support the movement.