Hampton alumni turn out for game versus Columbia
Lois Elfman | 1/10/2019, 2:47 p.m.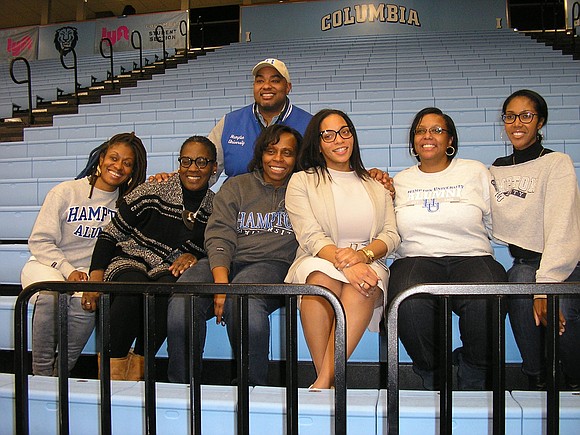 Columbia University women's basketball came away with a much-needed 88-63 home court win in its matchup with Hampton University Jan. 2, but that didn't dim the enthusiasm of Hampton alumni, who turned out to support their alma mater. The HBCU institution has a strong alumni base in the New York/New Jersey area.
"We try to always come out and support our university," said Carol Fennell. "Hampton is in Virginia, so we don't often get to see them play this far up north."
Harlem native/Hampton alumna Satrina Boyce added, "One of the key things we try to teach our children are the benefits of going to an HBCU. For them to come to a place like Columbia and see Hampton play is actually a phenomenal opportunity—not only for us, but for our children as well."
Several alumni reside in Harlem, and their sons' team, the Westside Warriors, played an exhibition game at halftime.
"It was cool to play here. Watching a college game, we get to see what to improve," said Tristin Gregoire of the Westside Warriors. "It was a nice experience. I like all the enthusiasm from the fans," said teammate Julian Boyce.
Columbia was led by guard Riley Casey, who scored 31 points, 21 of which were on three-pointers. The leading scorer for Hampton was Ashley Bates, who had 25 points and six assists. Laren Vanarsdale contributed 13 points.
"We didn't get the win we wanted, but we played hard," said Vanarsdale. "We got to explore New York—new things and new people."
"New York is a beautiful city, great vibe," said Bates of the team's visit to Harlem and Times Square. "[The alumni being here] means everything. To have fans like that and to bring their families, we love the support."
Hampton coach David Six grew up in Brooklyn. He had a stroke in 2018, so getting to coach in his hometown meant a lot to him. "It was one of my bucket list things," said Six. "Overall, I thought the players had a great experience."
"I have young daughters, so to give them a chance to see women's basketball up close and be inspired to play for Hampton one day is a great experience," said Calvin Butts Jr., a Hampton alum and trustee. "To see the name Hampton on the jerseys is exciting."