Ending a long road, Knicks see their potential future in Durant
Jaime C. Harris | 1/10/2019, 2:41 p.m.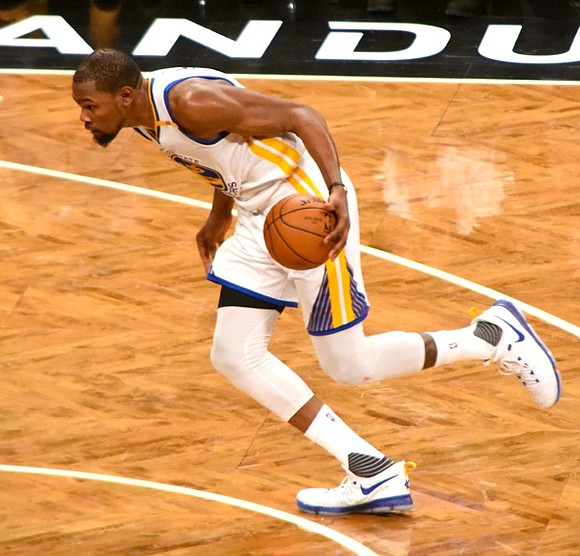 The Knicks are back at Madison Square Garden tomorrow night to face the Indiana Pacers after ending a six-game, 13-day road trip in which they were an unsurprising 1-5. Over their past 17 games, the Knicks, with a current record of 10-31, are 2-15 and have greatly increased their odds of winning the NBA Draft Lottery with the prize being the No. 1 overall pick and Duke's 18-year-old man-child Zion Williamson.
As of Wednesday they were tied with the Phoenix Suns and Chicago Bulls for the fewest wins in the league. Only the 8-33 Cleveland Cavaliers had less. Another player the Knicks considerably hope to be a part of their future is Kevin Durant, who they saw up close Tuesday when they faced the Golden State Warriors, getting their doors blown off by 122-95.
The 30-year-old Durant, who has won back-to-back titles and consecutive Finals MVP awards with the Warriors, will be a free agent this summer. The Knicks have positioned themselves to have ample salary cap space to offer Durant a max-contract. A player of his stature could profoundly alter the trajectory of the franchise. Durant paired with a healthy Kristaps Porzingis would immediately elevate the Knicks to a playoff team.
However, Durant has not spoken publicly about his intentions beyond this season and has refuted rumors about his interest in possibly becoming a Knick. "I have no clue where that stuff comes from," Durant said according to multiple media reports before scoring 24 points in 30 minutes against the Knicks, one of several of his anticipated suitors.
"I just focus on playing ball every single day," he continued. "I can't control what people say about me or what they say about my future or what I should do. I just try to come to work every single day, and life will figure itself out for me."
It is reasonable to speculate that Durant might look to separate from the Warriors if he wins one more championship with them in June. That'll make three for him, fulfilling his purpose in leaving the Oklahoma City Thunder in the summer of 2016 after they lost in the Western Conference Finals to the Warriors.
Comparable to when LeBron James left the Cleveland Cavaliers to join Dwayne Wade and the Miami Heat in pursuit of an NBA title, Durant was heavily criticized for what many fans and pundits said was a much easier path to a championship than persevering with Russell Westbrook and the Thunder.
After this season, if it indeed ends with a Warriors three-peat, Durant might want the challenge of proving he can lift a struggling franchise to a title and with it his standing as one of the game's all-time greats. The Knicks will be waiting.