Wilson and Prescott take center stage in the opening act of wild-card weekend
Jaime C. Harris | 1/3/2019, 1:15 p.m.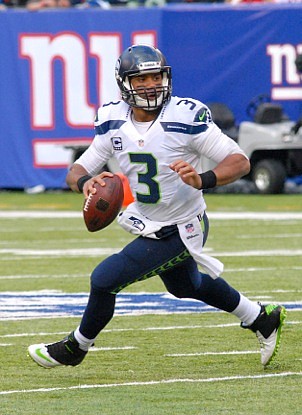 Contrary to their evident physical differences, Russell Wilson and Dak Prescott have much in common, mainly that both were highly productive college quarterbacks who were undervalued by NFL Draft evaluators.
Saturday, their teams, the No. 5 seed Seattle Seahawks and No. 4 seed Dallas Cowboys, respectively, will meet at AT&T Stadium in Arlington, Texas, in the first NFC wild-card game of the weekend. Sunday, the No. 3 seeded Chicago Bears will host the No. 6 seed and defending Super Bowl champion Philadelphia Eagles in the other wild-card matchup.
Wilson's stellar NCAA career, first at North Carolina State, and then Wisconsin, wasn't enough to convince NFL general managers and coaches that despite possessing a strong arm, excellent accuracy, outstanding mobility and exemplary leadership skills, he could overcome his relatively small stature.
As a result, the 5-foot-11, 215-pound Wilson lasted until the third round of the 2012 draft—the 75th pick overall—when he was selected by the Seattle Seahawks.
All the 30-year-old product of Richmond, Va., has done is become the franchise's greatest quarterback, winning Super Bowl XLVIII at the Meadowlands in 2014 by 43-8 over the Denver Broncos and falling short 28-24 to the New England Patriots when he threw an interception near the Patriots' goal line the following February in Super Bowl XLIX.
Rayne Dakota "Dak" Prescott is striving to experience the success Wilson has enjoyed. After being named a two-time, first-team All SEC selection at Mississippi State in 2014 and 2015, the 6-foot-2, 235-pound Prescott didn't hear his name called during the 2016 NFL draft until the fourth round, when he was chosen by the Cowboys with the 135th pick.
Replacing injured starter Tony Romo before the beginning of the 2016 season, Prescott went on to help the Cowboys win the NFC East title with a record of 13-3 and be named the league's Offensive Rookie of the Year. Both Prescott and the Cowboys took a step back last season, finishing 9-7 and missing out on the playoffs. His uneven play this season has continued to cast doubts as to whether he has the necessities to ultimately earn the subjective label off franchise quarterback and elevate the Cowboys to the Super Bowl.
Although the 25-year-old native of Sulphur, La., was instrumental in the Cowboys winning the NFC East title again this season at 10-6, the naysayers will persist until he has a transcendent regular season or remarkable playoff performance culminating with a Super Bowl appearance. That's what it took for Wilson to finally be rightfully acknowledged as one of the sport's premiere QBs.