Knicks try to maintain confidence as losses pile up
Jaime C. Harris | 1/3/2019, 1 p.m.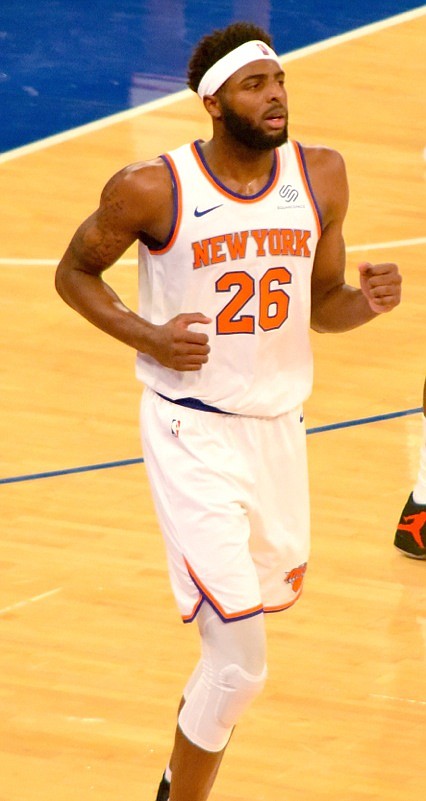 Dave Fizdale's motivational skills are being immeasurably tested with each loss the Knicks accumulate, which now stands at eight in a row after their 115-108 defeat to Denver Nuggets Tuesday night. The first-year head coach, like all others in his position, will ultimately be judged by wins and losses, whether he can lift the Knicks from the bottom of the standings and into the playoffs, where they haven't been since 2013.
No rational Knicks fan could have possibly thought they would be anything but a lottery team this season. However, a fair expectation would be for them—individually and collectively—to show gradual improvement as the schedule progresses. A deconstruction of the Knicks as they sit at 9-29, three games into a six-game road trip, which continues tomorrow night against the Los Angeles Lakers, reveals a team whose record should at minimum be slightly better.
Being the youngest team in the NBA doesn't excuse the Knicks' abysmal defensive efficiency. They are arguably the worst defensive team in the league with a ranking of 27th out of the 30 teams, allowing 115.9 points per game. After their loss to the Nuggets, opponents were shooting .479 against them, placing the Knicks 29th in this category. And only five teams were statistically defending the three-point line with less proficiency as the opposition was dropping long bombs at a rate of .367.

Coaches utilize advanced metrics and other more complex analysis to measure improvement or lack thereof. By and large, fans are much more pragmatic and rely on their eyes to assess players' individual development and the team's growth. Empirical evidence is often far more compelling than quantitative data. Either measure is yielding unfavorable conclusions for the Knicks.
Other than rookie Kevin Knox, who has scored in double figures in 11 consecutive games and is proving to be a future cornerstone of the obvious rebuilding process the Knicks are undergoing, no one on the active roster has emerged as a certain keeper.
At 26, guard Tim Hardaway Jr. might be as good as he is ever going to be. Questions abound regarding second-year guard Frank Ntilikina. Undrafted rookie free-agent guard Allonso Trier has been a pleasant surprise, but his ceiling might be a solid role player. Same for forward Noah Vonleh. Like Knox, rookie center Mitchell Robinson could also be a valuable asset for the franchise, but his growth has been stunted by injuries. Robinson hasn't played since spraining his left ankle against the Charlotte Hornets Dec. 14.
So it is Fizdale's charge over the next three-plus months and 43 games to move the Knicks forward. By then, April 10, when they play their last game of the season, there will be a much clearer picture of the immediate future of the franchise.