Key West—A slice of the laid-back life
SHERYL NANCE-NASH | 1/3/2019, 4:50 p.m.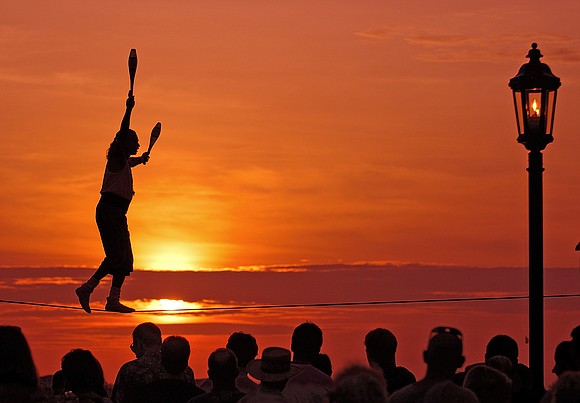 There's no place like Key West. What's not to love about a place where the locals are quick to tell you that there are two things that will get you kicked off the island —prejudice and pretentiousness? After all, as they say, it's about "one human family."
The vibe is hippie, peace, love, all that's good in the world. It's always time for self-expression. It's no wonder writers such as Ernest Hemingway, Robert Frost and Tennessee Williams flocked to Key West. They only needed to look out their windows for inspiration.
You know you're not in middle America when you take an evening stroll on the ever-lively Duval Street. One bar has a sign inviting you to come in and says, "clothing is optional." Climb the stairs and go in if you dare. On another corner, you might encounter a drag queen, waving and blowing kisses to entice you to enter the club. Amid the shops, restaurants, bars and blaring music are people who could be straight from a novel, from the moneyed set, the salt of the Earth, to those that are just salty, and everything in between. Be ready for the chickens and the roosters; they are everywhere.
The folks in Key West celebrate life. Every day, people gather at Mallory Square to view the Sunset celebration. Street performers, musicians and singers entertain. Vendors sell arts and crafts, jewelry, roasted corn, guacamole and chips, and coconuts chopped so they're perfect for sipping juice. Mostly though, the attraction is the fading sun sparkling on the waters as boats pass by. The setting sun is hardly the end of the day. In Key West, where many bars and clubs stay open until 4 a.m., it's just part two of a long, long day.
The historic seaport, which has played a role in the island's seafaring commerce since the 1890s, is home to restaurants such as Conch Republic Seafood Co., which offers food with island flair and fresh fish right off their boat. The lively venue has a great view of the dock and all the boats, one bigger and better than the next. Do try the conch fritters, baked oysters callaloo, grilled mahi-mahi or the blackened jumbo scallops. Another popular spot is Blue Heaven, a restaurant in the Bahama Village neighborhood. Like everything in Key West, there's a backstory. It once was the place where there was cock fighting and gambling, and Friday-night boxing matches were refereed by Hemingway. It's not only dinner that's popular; breakfast is beloved by locals. The banana bread and shrimp (Key West pink shrimp sautéed in white wine) with grits are just two of the many favorites. Although it's morning, the mood already is festive, with a quiet guitarist playing, and some already seated at the bar enjoying beverages.
However, there's plenty more to Key West, which is the nation's southern-most city and is closer to Cuba than Miami, than just food and drink. There are galleries, the Museum of Art & History at the Custom House and the Butterfly & Nature Conservatory. Visit the Ernest Hemingway Home and Museum. Although some shops are targeted to tourists, look for gems such as Salt Island Provisions, which offers wild honey, sea salt, jewelry, artwork and other goodies with origins from throughout the Keys. A Key Lime Bike Tour will give you a fun way to see the city and learn some of the island's history. Children will especially appreciate the aquarium and Shipwreck Treasure Museum. For the adventurous, there is snorkeling, kayaking, parasailing, paddle boarding, sky diving and more. If mellow suits you, there are glass bottom boat tours, dolphin watching and sunset cruises with live music. For a memorable meal and experience, make a reservation for the upscale, elegant Latitudes restaurant. Go by ferry to Sunset Key, a private island. Take in breathtaking view of the Gulf of Mexico. The service is superb, as are the specialties such as togarashi charred tuna tataki, lobster bisque and braised waygu short ribs.
As for where to stay, the options are numerous, from vacation rentals to historic inns such as the Chelsea House Hotel or the newest luxury spot, The Marker.
Do not, however, leave town without a piece of Key lime pie from Kermit's Key West Key Lime Shoppe.