Best popular albums from Black artists in 2018
JORDANNAH ELIZABETH | 1/3/2019, 4:54 p.m.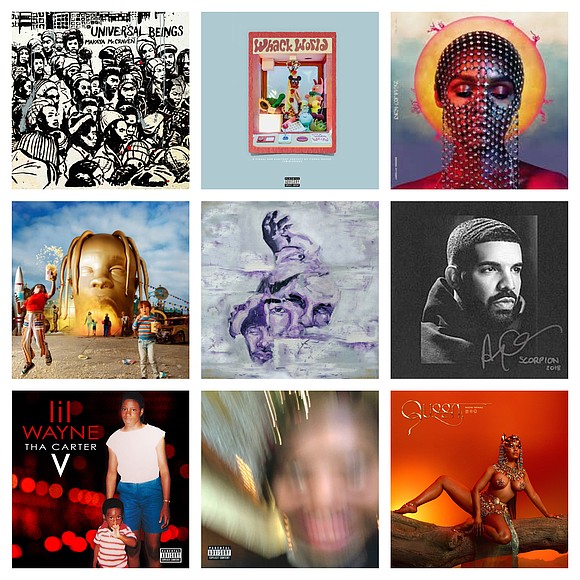 Nicki Minaj—"Queen" (Young Money Entertainment /Cash Money Records)
On the first moments of listening to rapper Nicki Minaj's fourth studio album, "Queen," it become apparent that Minaj worked painstakingly hard on the album's presentation. "Queen" takes hip-hop music production to another level, and her humor, maturity and vulnerability flows naturally like a river or stream that has been taking its course throughout the Earth for a millennium. "Queen" is a natural masterpiece. It's more than a hip-hop classic. It's art that makes very clear that the artist truly cares about what she puts out into the world. Persona aside, the album will take you by surprise, not because Minaj wasn't always talented, but because she made hip-hop a postmodern, very human art form with this album.
Lil Wayne—"Tha Carter V" (Young Money Entertainment/Republic Records/ Universal Music Group)
Lil Wayne's "Tha Carter V" is a moving ode to his strong, but trauma-riddled relationship with his mother. Whereas in the previous album of Tha Carter series, "Tha Carter IV," Wayne began his album by cursing niggers and hoes, he takes a sharp new direction in allowing his mother to speak from the heart, thanking and wishing him well in "Tha Carter V". Like Minaj's 2018 release, we see a huge leap of maturity, honesty, confessions of wrongdoing and pain and gratefulness. Wayne does humility on "Tha Carter V," and that's OK. It's better to listen to a rapper consider himself a guru (with respect to the late rapper, Guru) in 2018, instead being inundated with messages of misogyny and ignorance of one's place in the world.
The Internet—"Hive Mind" (Columbia Records)
The jazzy, neo R&B album, "Hive Mind" by the young seven-member band, The Internet, is gifted with 26-year-old producer and songwriter Syd Tha Kyd's sultry voice and natural musical sensibilities. The entire band is incredible, giving "Hive Mind" a group chemistry that can be compared to amazing Black live acts such as The Roots and Janelle Monáe. The album is a bit subtle, avoiding over the top solos and standout performances (which they're all capable of). Instead, they choose to create a gelled, fun album on which all the members seem to have the same goal: releasing a listenable, sensual and light neo R&B album.
Janelle Monáe—"Dirty Computer" (Bad Boy Records)
Breakout virtuoso, Janelle Monáe offers an afro-futuristic album that acts as a social commentary of the current technological times, mixed with the acknowledgement of the Black experience of the past and her dreams of wanting to live a happy and full life. It's a stunning pop album that features musical legends such as the Beach Boys' Brian Wilson, who contributes to the opening title track, "Dirty Computer."
Makaya McCraven—"Universal Beings" (International Anthem)
Drummer and composer, Makaya McCraven recorded an epic four-part album entitled "Universal Beings" this year. The album features some of the best Black instrumentalists and composers of today such as harpist Brandee Younger, cellist Tomika Reid and British saxophonist Shabaka Hutchings. The album's four sessions were broken up by the location of the recordings, showcasing improvised bands performing together in New York City, Los Angeles, Chicago and Los Angeles. McCraven wanted to break free of the idea of the "local music scene," which many times can result in competition among artists via the press. The album is diverse to show unity and global talent, rather than him recording and releasing sessions from this current location in Chicago. This album has all to do with breaking the mold of divisiveness between musicians and arts regions and showing a collection of modern jazz that transcends tradition and close minded consciousness toward what is possible in jazz and creative music.